10 Aug

Hide and Reveal; using the element of surprise in garden design

One way to give a garden all year round interest is to use the element of surprise. Find out how to keep those surprises coming in our blog.
Create Some Secret Gardens
So many people fall into the trap of boring garden design. You've probably seen lots of them. Lawn in the middle, shrubs and herbaceous borders on 3 sides, patio on the 4th side, shed in one corner. All of the garden can be seen from all of the garden. So there's no mystery and no surprise.
No matter how big or small a garden is, you can create a feeling of intrigue by dividing it into smaller, individual spaces, each with its own character. A really good example of this, and well worth a visit if you're ever in Norfolk, is East Ruston Old Vicarage Gardens. The garden designer there has used high hedges to create a series of garden rooms. Of course, he has several acres of land to work with. In an urban back garden you'll need to think outside of the box a bit more. And that's exactly what the team at Tapestry Design Studios like to do. We use different materials, media and planting techniques to create areas of interest within a garden.
Using screening to introduce the element of surprise
A favourite method of creating smaller spaces in a garden is to use screens. They don't need to be high or dense or claustrophobic. Careful choice of materials and media can create some beautiful effects.
Take a look at these examples
Using plants to screen off an area:
Tall grasses create a gentle visual barrier between lawn and path. The summer house is not hidden – rather you get intriguing glimpses of it though the foliage and you want to explore more
A low brick wall topped with metal railings are an intriguing entrace to the front garden. The focal point beyond the gate is of course the front door.
If this idea were used around a terrace or dining area, the focal point could be a tree, a summer house or a water feature in the garden beyond. Thus creating a garden room with an enticing view.

The clients thought that this small garden in Morcombe had limited potential, especially since it needed to work for someone with impaired mobility. The team at Tapestry Design Studio used a winding path, slopes and mature trees to bring the element of surprise to different areas of the garden. Standing at the bottom of the garden and looking towards the house affords a whole different perspective
This garden screen looks just as good at night time as it does during the day, and affords a great opportunity to play with lighting too.
(image courtesy of Arbour Landscape Solutions)
Using light and sound
Your eyes are not the only way to enjoy a garden. And plants and paving are not the only media. A garden should appeal to all of the senses. That's sight, sound, touch, scent and yes – taste.
Once your garden has been laid out so that it has some little nooks and crannies, you can start to use light and sound to bring the element of surprise. How about hiding a water feature behind a low fence? The sound of moving water is irresistible to most people and to be able to hear but not see it means you are compelled to follow your ears to find the surprise feature.
Add some lighting and it will have an extra element of surprise in the evening time – or indeed in the darker winter months.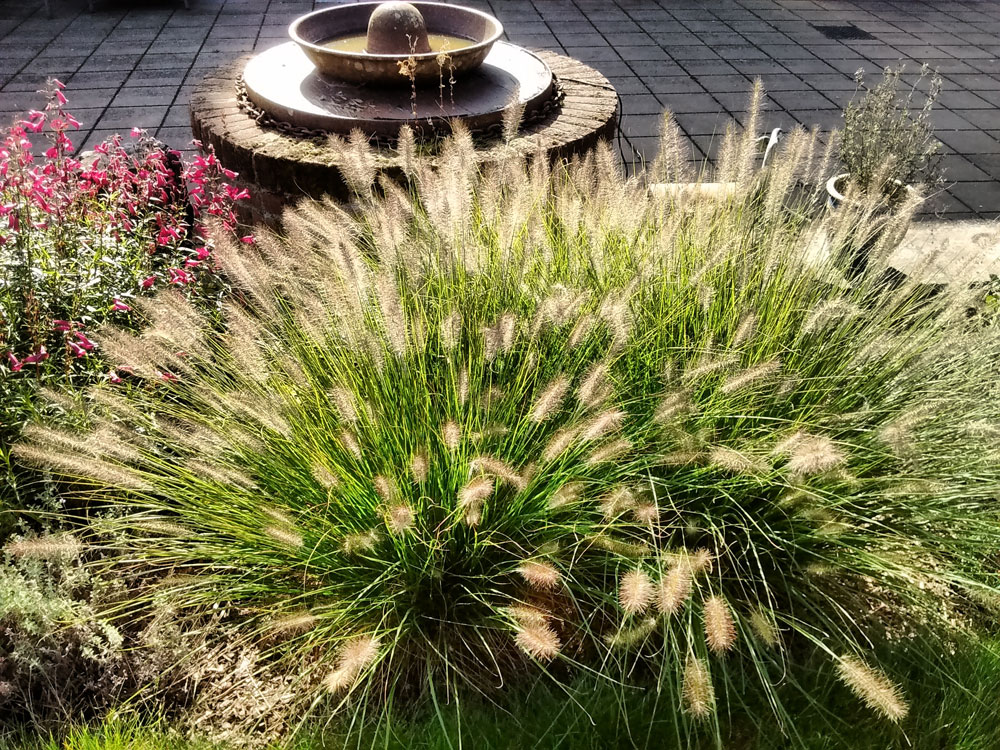 This water feature is for a wheelchair friendly garden. If you are seated, it's barely visible from some parts of the garden, it's certainly audible though.
Planting plans
In some of the images I've already used for this blog you'll see that plants have been used for screening and to create an element of surprise.
Of course, each image is only a snapshot in time. Seasonal changes mean that virtually every plant will change its appearance during the year. A well planted garden is never static. Even topiary gardens will cast different shadows at different times of year.
Coloured foliage and berries. This is an unspectacular shrub for most of the year, but when autumn comes – wow! It reveals its true glory.
A clever planting plan will ensure that something interesting is happening all year round. Whether it's the first shoots of spring bulbs pushing through the soil in February, a surprising pop of colour in august or a delicious fruit harvest in autumn.
The garden designers at tapestry design studios absolutely love exploring new plant combinations to create the element of surprise. Sometimes we'll use tall grasses or slim trees to partially hide a view. Other times we might use a decorative metal screen.  We might include some fragile flowers for you to discover hidden amongst their foliage in spring time. Or some flame coloured crocosmia to brighten a dull corner. That plain green tree could be an acer that will glow with red and orange hues in the autumn. We'll use contrasting foliage shapes for impact and interest and of course we aim to have continuity so that there are always interesting plant forms – no matter what the weather.
Would you like to bring the element of surprise into your own garden?
Learn more about the garden design process
Take a fresh view of planting in your own garden
Contact Tapestry Design Studio to discuss your garden design ideas