17 Jan

Garden Design Advice for Landscapers: Can design win business?

A beautifully presented concept design can help win business and save money. This article explains more.

Have you ever been asked to build a client's garden with only the barest design brief?

How difficult was it to provide a quotation only to find that the client changed their mind several times during the build? Did that impact on your profit margin? I'm sure it did.

In my early days of working as a Landscaper, that happened to me a lot. As an active member of the Association of Professional Landscapers (APL) I know it happens to other landscapers too. That's what ultimately led me to found Tapestry Garden Designs for domestic clients and later on, My Garden Design.  My Garden Design is an online design service exclusively for landscapers and property developers. I wanted to support colleagues in the industry with cost effective garden design advice for landscapers and builders.
Why work with a garden designer?
Communicating your ideas
Most of the landscapers I know have got a pretty good eye for design. They can see what features will fit best with the lie of the land and they know from experience what work is involved and what the costs are likely to be.
Clients on the other hand rarely have the same insight or understanding. Quite often, they don't really know what they want and are waiting for you to inspire them.
Describing your ideas to a prospective client can be challenging. There's no guarantee that they are interpreting your description the way you mean them to. With a professionally drawn concept plan you can be sure that your client is literally reading off the same page as you are.
When you and your client are both thinking the same will be fewer incidences of "can you just move this or change that?" The job is less likely to run over time, your costs are more manageable and everyone is happy.
Winning the work
A new garden is a big investment for most people. Just as they do when buying a car or building an extension, they do a lot of research before committing to a supplier. That means that you will most likely be competing with other landscapers.
Price isn't the only consideration when buying a new garden. Appearance and functionality are vital of course. But what also matters a lot is trust. Would you let a stranger tramp about on your property when you're not there? No? me neither. I need to like be sure that any contractor is trustworthy, honest and reliable.
An important part of marketing your business is presentation. Are you appropriately dressed? Is your vehicle clean and sign written? Do you have a professional looking brochure or website and do you present prospects with good quality sales materials? Now think. Would your client be most likely to trust a hastily drawn layout scribbled on the back of a pizza box or would she be more comfortable with a beautifully drawn concept plan?
Using your talents wisely
Everyone is better at some things than others. In this industry I have met all sorts. There are brilliant hard landscapers who don't enjoy planting. Many horticulturists would rather leave fencing and decking to someone else. Whilst most lighting wizards who find turfing really dull.
I find that people work best and most cost effectively on the tasks that are most suited to them. Look at me for example. I'm perfectly capable of updating my own website but it takes me ages.  What would take my webmaster 20 minutes would take me an hour and a half. Much better to pay him for 20 minutes of his time while I spend that hour and a half earning money on site.
By the same token you could spend several hours drawing a design to impress a prospective client – and still not being 100% happy with the presentation – when in fact you could have been negotiating better terms with a supplier – or whatever it is you're good at.
How our garden design advice for landscapers works
First and foremost, let's be clear. Tapestry Garden Design Studio and My Garden Design are not in the business of competing with our trade clients. So you're safe with us. Yes, we do also own a landscaping business, but it's a fairly busy one, and we don't need to poach anyone else's work.
Our garden design advice for landscapers is based entirely on the information you give us.  You tell us about proportions and measurements, aspect, existing features and client requirements. We don't need to visit the site. We don't even need to know where it is!  To make it easy for you, we send you a list of the information we need from you.
We use the data you give us to create a beautiful, high quality concept design. When you commission a garden design from the My Garden Design website, it will be YOUR logo and contact details that appear on the design. Nobody will know you've outsourced the service unless you tell them.
What is a concept design?
A concept design is a 2D image, in colour, showing the layout of a new garden. It helps your client to picture their new garden and gives them an opportunity to make changes before work begins.
You can add measurements to the design and use it when pricing up and quoting.
3D images can be created for an additional fee. See the images above to see how these 3D images bring a design to life.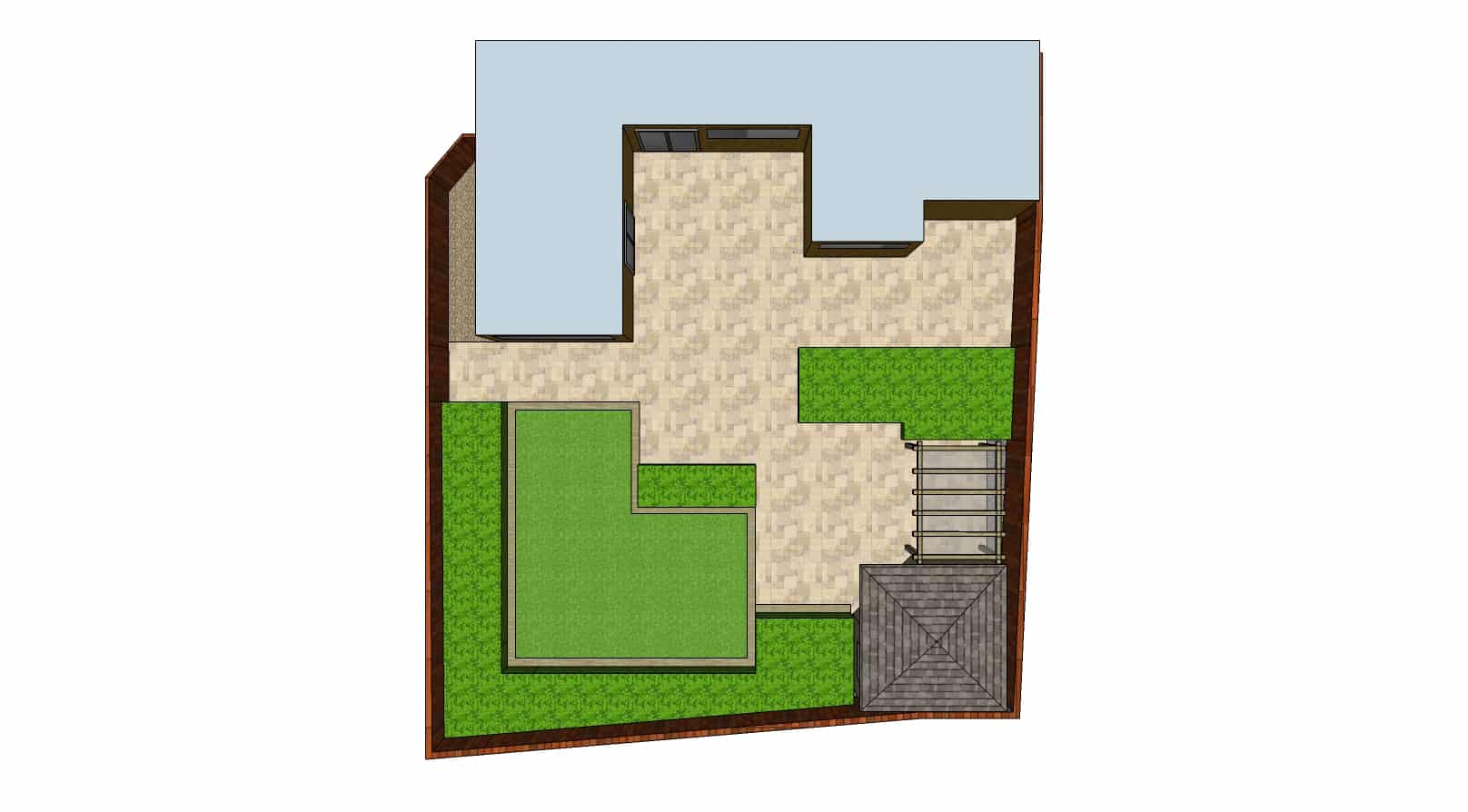 A typical concept design created as part of our garden design advice for landscapers service. Our customer supplied a site survey along with his client's wishlist. The client had asked for a child-friendly garden with seating and eating area and plenty of visual interest. Our design has included a summerhouse which would provide all year use for the garden. A lawn area for relaxation and play and practical features such as a lawn edging to reduce the need for trimming. Each area is labelled to help the client imagine how the garden might look and function once it's finished.
A concept design doesn't usually specify materials, colour schemes or plants. It's for you and your client to personalise the garden and bring it to life. However, if you need suggestions, we're happy to help.
Costing garden design advice for landscapers
How many hours does it take you to create a beautifully presented concept design? Multiply that number by your hourly rate and you'll have an idea of what it costs you to do it yourself. Now calculate what you could have earned in that time if you were working on site.
Next, contact the team at My Garden Design and ask for a quote, or use the quick quote facility on the website.  I strongly suspect that you'll find that outsourcing garden design to trained experts is actually quite cost effective.
About Tapestry Design Studios
Tapestry Design Studios is an award winning garden design team helping to create beautiful outdoor spaces countrywide.
We work with landscapers to find ways of turning the most uninspiring gardens into attractive, practical and manageable places. Our speciality is in designing gardens that meet all of their owners needs at the same time as adding value to property.
Our lead designer is Katie Moyes. Katie holds a first-class Diploma in Garden Design from the School of Design at Writtle College. She has completed the RHS diploma and has worked at Beth Chatto's celebrated garden in Essex. SGD Membership helps keep her up to date with new innovations and industry trends.
This talented lady has helped a great many landscapers and gardeners to win work and delight clients with beautifully presented concept plans that translate into stunning gardens.
Visit our gallery to see some of our designs brought to life
Contact Tapestry Design Studios
About My Garden Design
My Garden Design was launched in 2020 by Paul Baker, Director of Tapestry Design Studio and Holland Landscapes.  Paul is a past vice chairman of The Association of Professional Landscapers and is well known within the landscape industry.  This online garden design service has been devised especially for landscapers and property developers who want to retain full control of the customer relationship.
How is MGD different to Tapestry Design Studio?
First and foremost – speed.  My Garden Design delivers garden designs within 4 weeks of order confirmation.  The Company is set up in such a way as you don't need to sit in a queue along with domestic clients and other landscapers.
Online options. The MGD website allows you to upload site details and the client brief at any time of the day or night. So if you're working on the tools all day, you can sort the design for your next project when you get home.  However, if you prefer real people to tech, you can still chat to us over the phone during working hours.
Trade Prices. My Garden Design works on fixed prices that are based on the size of the garden to be designed.  You will know from the outset what you need to pay for the design. And we also suggest a RRP for you to charge your clients.  We can offer lower prices to trade customers because we know that landscapers understand exactly what information is needed for us to create the design. And because our designers don't need to make site visits, attend consultations or chat with the clients.
Helpful Downloadable Documents. Managing customer expectations is not easy and we've created several free downloadable documents to help you.  From T's and C's for you to adapt to your own business (kindly supplied by Alan Sargent), to a garden brief questionnaire. There's everything you need and more to make it easier for you to offer garden design as part of your landscaping business.  Register as a trade user and log in to your MGD account to access the documents.