12 Feb

Garden design tips to help you make the most of your small garden

Do you think your garden is too wee to worry about? Think again. Our design tips will help you to fall in love with your small garden.

Modern houses are often blessed with a small garden. And when I say blessed, I truly mean that. When you're working hard all day, a large garden can become unmanageable. All you need your garden to provide is a nice view from your window and somewhere to relax when you get a chance.

I've seen a lot of gardens in my lifetime and believe it or not, some of the prettiest ones have been tiny. If a balcony can be beautiful. A small garden can definitely be gorgeous.

These garden design tips for a small garden are simple, effective and affordable.
Look Up, Down and All Around
Every single cubic centimetre of space in a small garden has potential.
The first thing to think about is the view. Presumably you will be able to see your garden from lots of different angles.
From the gate as you (or visitors) enter the property
As you walk along the path to the door
When you look out of  your living room
While you are standing at the kitchen sink
As you walk out of the back door
Looking out of an upstairs window
From your outdoor seating area
Think too about where the sun falls at different times of day and at different times of the year. Make the most of that and place features accordingly. Remember you can add all sorts of artificial lighting into your design.
Flooring
There are so many wonderful choices for the ground beneath your feet. Let's be practical though. We know that the environmental benefits of a natural lawn are plentiful and we know it's a traditional British garden feature. However if your garden is tiny and you'll be using it a lot, a lawn will quickly turn into a muddy mess. Plus, if storage is at a premium – do you really want to find space for a lawnmower?
A stylish deck, a patio or tiled paths are so much more user-friendly.
No matter how small it is, your front garden is the first thing that visitors see when they come to your house. This one, in Colchester, can also be seen from the car park and walkway. Create the right first impression and add kerb appeal to your property with carefully thought out garden design and high quality installation. This garden was built by local landscapers Holland Landscapes.

Boundaries
Look at your fencing as a blank canvas. Could you climb plants up it? Paint it a different colour? Hang a mirror to give the illusion of more space? Could you swap that wooden fence for a metal screen?
Planting
Personally I like to keep the planting simple in a small garden. Just use a few different species that will work well in the space. "Non gardeners" find it easiest to tell what's a plant and what's a weed if there are only a few types of plants to learn. Plus a mishmash of different plants can easily look cluttered in a small space.
Levels
Who says a small garden has to be on one level? By introducing raised (or sunken) areas, you can create different microclimates and make full use of the sun at any time of day. Tastefully done, you can create a lot of visual interest by varying levels and materials. And you can make the garden feel bigger than it is.
Use height to lead your eye away from the ground. Build a pergola or plant a suitable tree to add a whole new level of interest to your outdoor space.
The clever use of light and the sound of moving water make this a great space to spend a warm summer's evening. On cooler evenings, it will still be nice to look at through a window.
Multi-Purpose features
Can any of your garden features be dual purpose? Could that seat have some sneaky storage underneath it? Will that sandpit convert into a raised bed when the children grow up? Is there enough room behind that decorative screen to store the wheelie bin? One gentleman I met had ingeniously hollowed out an area beneath his decking to create an underground bike shed. It's amazing what your imagination can lead to – especially if you are a trained garden designer with a very active imagination.
Seasonal Changes
How do you want your garden to look through the changing seasons? You may not be wanting to eat your breakfast outside in January but you'll probably be catching glimpses of the garden through the window.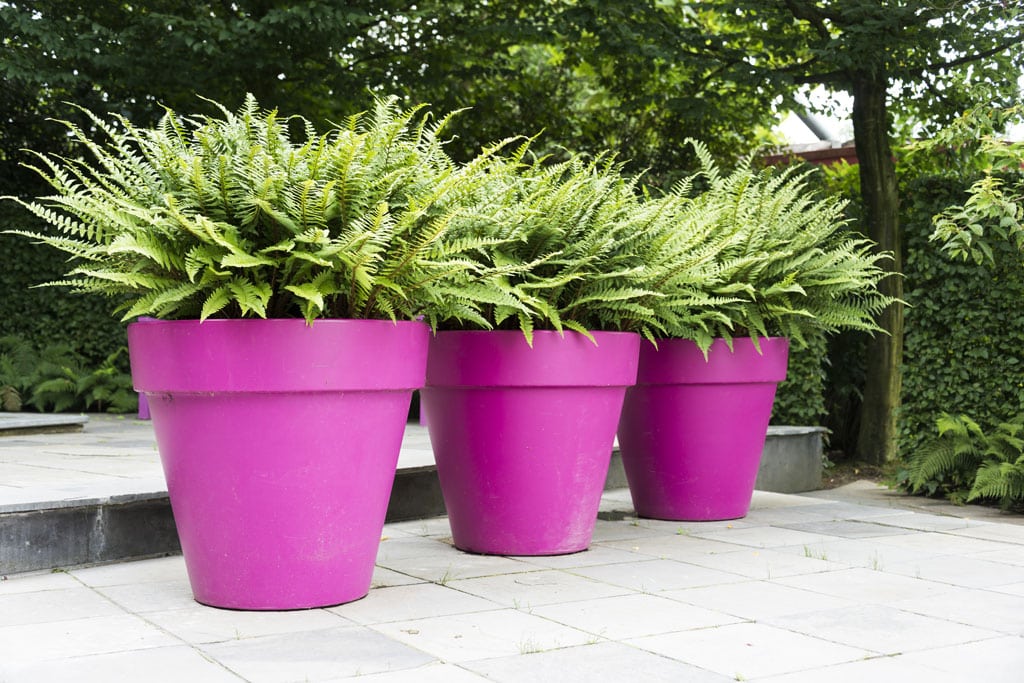 Planters like these bring a bright pop of contrasting colour into the garden and can be changed along with the seasons
This is where clever plant choices, ingenious illuminations and seasonal accessories come in to play. So for summer, you could hang some lanterns and bunting to draw you outside on a summers evening. For autumn, how about a fire pit? In spring, why not plant some bulbs in planters? When the flowers die back you can move the planters and use the space for a comfy chair. In winter architectural features and clever lighting can really keep the interest alive.
The Rule of 3
So now I've overwhelmed you with ideas for adding interest and making the space usable and practical. Next stage is to simplify things.
It's easy to overwhelm a small space with too many different features. But, if you follow the rule of 3 – which applies to interior design as well as garden design, you will find your garden looks much more inviting.
This garden is a great illustration of the rule of 3. There are 3 different groundcover materials (decking, grass and paving).  Planting is uncluttered and coordinates beautifully with the fence, pergola and hard landscaping.  The trees add height and screening and have beatiful bark for winter interest. That diagonal arrangement of patio, lawn and deck gives the impression of more space. As small as it is, this is an attractive and versatile low maintenance garden for all seasons.

For each aspect of the garden, avoid using more than 3 contrasting things. So on the ground flooring – decking, paving and aggregate. Or paving, brickweave and gravel. For the colour scheme don't go for the whole rainbow. Pick 3 basic colours and stick with them.
Think of the transition from house to garden and if you can, continue the themes from one to another. For example, if you're lucky enough to have patio doors or bifold doors, use the same flooring materials inside and outside for a seamless transistion.
Quality Workmanship
I can't stress how much difference craftsmanship can make to a small space. There is no margin for error.  That leaning pagola or sinking slab can turn an inspired design into a disaster. Your garden should add value to your property. And that is even more important for a small garden. So unless you are a DIY wizard, you might want to invest in the services of a good landscaper.
Confused as how to design a small garden?
Garden design is a complex craft and it's easy to ruin the potential of a small space by getting it wrong. If you have a small garden and you want to make more of it, the services of a good garden designer are a lot more affordable than you might imagine.
A garden designer can actually save you time and money by helping you to turn your ideas into a workable plan AND helping you source the most cost-effective materials without wasting your money on overpriced or poor quality goods.
Why not talk to Tapestry Design Studio just to get a feel for what services are available and what they cost?
Affordable garden design packages that would work for a small garden