14 Sep

Garden Storage Ideas

Gardens have a way of accumulating clutter. Here are our ideas for garden storage that won't assault your eyes.

Every single one of Tapestry Design Studio's clients has expressed a need for garden storage. And if the client doesn't think of it – you can be sure that our designers will double-check. From bins to bikes, logs to lawnmowers, every household has things that need to be hidden from view and/or kept safe from the ravages of winter. We think it's better to design storage into the garden than to try and fit it in afterwards.
Storage for large items
It's always best keep bikes, lawnmowers, toys and barbecues out of sight if you can. Not just for aesthetic reasons –in some areas, anything in the garden that isn't nailed down is vulnerable to thieves. Don't forget too that some garden furniture benefits from being stored indoors during winter months.
The trusty garden shed is the obvious way to store large items. But sheds are not known for their beauty. Using colours and accessories can turn a utilitarian garden storage building into an attractive feature. Alternatively, why include some clever screening in your garden design so that the shed cannot be seen?
A coat of paint and helps this storage shed to blend into the garden. I love the covered storage area beside it and the water butt to capture and store rainwater runoff

Alternatively, you could use a pretty summerhouse or a sheltered pergola to protect garden furniture from heavy rain. In summer, throw the cushions in here at the end of the day, and in winter, bring the chairs and tables undercover. This kind of "storage" will make it easier for you to use your garden all year round. With a little heater, your summerhouse could become a cosy winter retreat.

This corner summer house is the ideal place to store extra seating and cushions
Log stores
I love a real fire. Whether it's an outdoor fire pit (my favourite!) or the wood burner in the house, keeping the fuel dry can be a challenge.
An outdoor log store can become a beautiful part of your garden. Build it near to where you will be using the logs and make sure you have easy access to it in all weathers. A path running to the log store is important, and try to avoid standing logs directly onto bare soil – they'll get damp. Remember too to make it easy to stack the logs. You might want a path from the back gate to the log store so that you can use a barrow to carry the wood from the delivery vehicle.
The choice of materials should blend with your garden. I love natural timber log stores but my favourite feature to design into a log store is a living green roof.
This sturdy log store has a living green roof made from sedum matting. This roof will be covered in flowers during the summer months
Picture courtesy of Enviromat

Hide those wheelie bins
We all need them but my goodness, bins are ugly things. How will you design garden storage for your bins? They're waterproof – so storage doesn't necessarily need a roof.  But it is good to have a solid, slip-free path from the kitchen door to the bin store. It's also wise to make sure you can easily wheel the bins out on collection day. Again, I'll recommend paving – gravel is so hard to wheel bins over.
Your bin store can be screened off with climbing plants, encased by a living roof or given its own little compound.  For the ultimate in neatness, you can add doors and perhaps even incorporate a bike, buggy or toy store.
When you are designing a garden, you can integrate storage ideas however you want to. You are certainly not limited to what's available to buy online. Your landscaper will be able to build something unique for you.
Storage for garden toys
If you have little ones, you'll likely be reluctant to let them go rummaging in the shed to find their playthings. But you can build storage solutions into their play area.  Sturdily built toy boxes can double as seating or climbing areas. Or why not design an outdoor play kitchen with lots of cupboards and storage? Make it versatile so that as the little ones grow, this could turn into an area where they can nurture their own seeds and plants.  You could even pop an "extension" onto a playhouse or why not think about a living wigwam where toys can be hidden whilst not in use?
Tapestry Design Studios designed this outdoor kitchen for a client in Essex.
We've included plenty of storage space for gas bottles, utensils and other essentials

Plants and plant pots
Most gardens have a collection of container plants. There are the pots of spring bulbs that are starting to fade, houseplants that you've moved outdoors for the summer and of course veggies in pots that you need to be somewhere higher than your dog can cock his leg.
Here's your opportunity for some upcycling to create truly individual garden storage. I love this idea using an ancient step ladder and some left over decking boards. But you could recycle an old table, build a bench or use greenhouse staging. Whatever you do, create something that you are proud of and turn it into a stylish feature.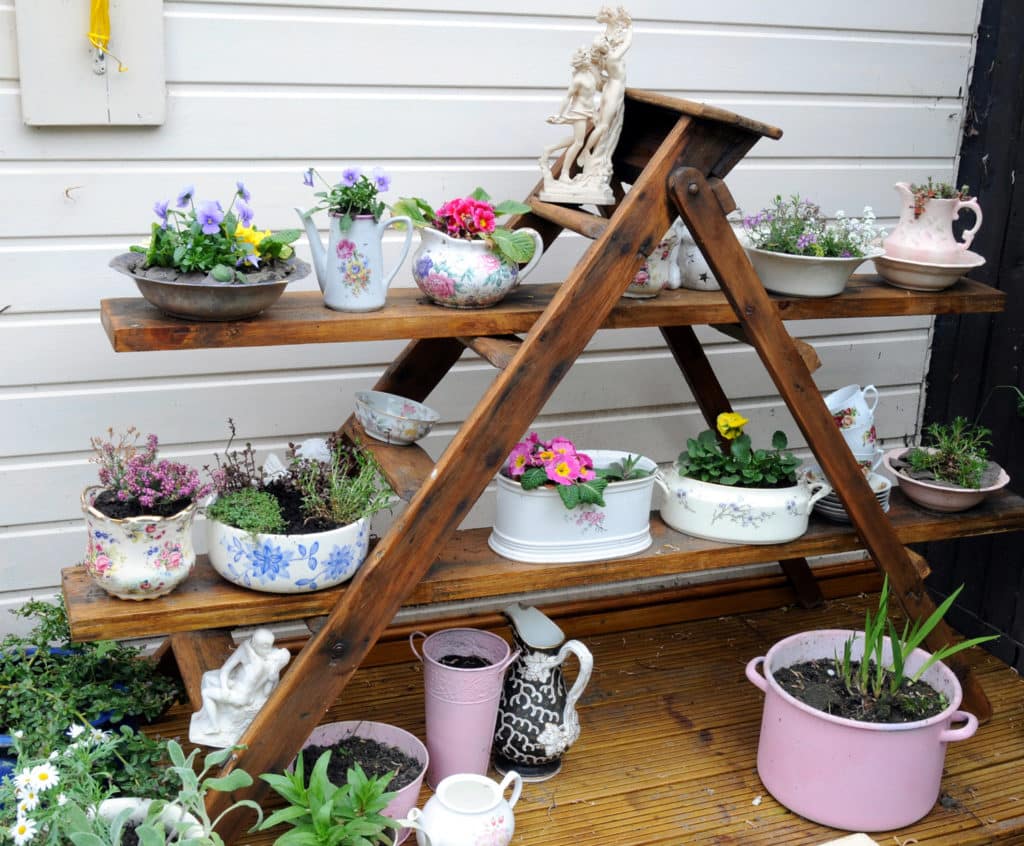 How beautiful is this upcycled step ladder? Adorned with junk shop finds and seasonal plants, it brightens up this little corner of the garden
Need more garden storage ideas?
For well designed outdoor space that incorporates lots of garden storage, talk to the Tapestry Design Studios team. We're brimming with suggestions and will be pleased to help you create a beautiful bespoke garden to suit your lifestyle.