27 Apr

Ideas For Paved Gardens

Paved gardens can be full of charm, if they are well designed and well made.  Here are some our our team's ideas for paved gardens.

As garden designers we're lucky to have a wealth of landscaping materials to choose from when we're thinking about surfaces. Natural stone, porcelain paving, clay pavers, aggregates, decking and soft landscaping materials such as grass, mulch and planting.

Wherever possible, we aim to create a balance between hard landscaping (paving, decking or artificial grass) and soft landscaping (natural lawns and planting), but all of our designs are tailored entirely to our clients needs.  And some clients just want paving ideas.

These pictures have been especially chosen to inspire you to consider ways to make paved areas more interesting.  Pavers are great but a great expanse of one colour or texture can be – well- boring. Landscaping can be quite a financial investment so it's really important to think carefully about paving ideas before you commit to buy.  Imagine spending your savings on a patio only to regret your choice of materials after just a few years.
Ideas For Paved Gardens 1:
 

Using Interesting Shapes and Contrasting Materials

This garden in Stanford-Le-Hope is approximately half hard landscaping and half soft landscaping. 
There are two large areas of paving in this garden. One adjacent to the house which is convenient for outdoor cooking and eating, and a second patio towards the back of the garden that will be used as a utility area for a tool shed and bin store which will eventually be screened from view.
The paved areas are joined by a series of paths. Some a gravel, some are paved but all have an attractive edging which brings cohesion into the design.   See the full case study here.  
Ideas For Paved Gardens 2: Play With Shadows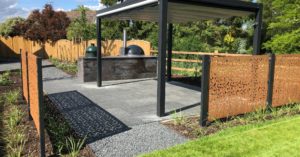 No garden is 2 dimensional. In this paved space we've used a modern pergola, an outdoor kitchen and patterned screens to make the space feel protected, safe and cosy.  But just look how the shadow cast by those decorative screens brings extra interest to the pavers.  You could create a similar effect using plants or ornaments.  A piece of garden art using stained glass or prisms would also make some wonderful effects.
Ideas For Paved Gardens 3: Introduce Water
This is the only garden in this article that was not designed by Tapestry Design Studios.  It's far too old for that!  This is in fact the Courtyard Garden at Leeds Castle in Kent.  The entire space is paved but just look at that central water feature.  Can you imagine how the sound and the light from that fountain creates a really rich sensory experience?
Plants in pots soften the space and make it feel a bit less architectural.
Here's a more up to date version of a paved courtyard garden.
Ideas For Paved Gardens 4: Get Funky With Vertical Garden Features
Small paved gardens needn't be boring and they needn't be wasted space.  Use the vertical surfaces around the paving to lead your eye up towards the sky. All of a sudden, the space will feel bigger and more luxurious.
In this garden, the pavers have a hint of blue in the colour tone, and so we reflected that in the glass bricks used to create that lovely curved wall.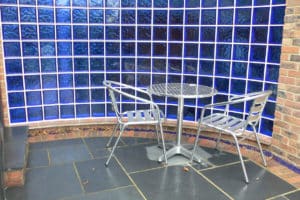 You could use a raised water feature, a living wall, mirrors, climbing plants or even an ornamental screen to make your paved garden more interesting.
Ideas For Paved Gardens 5: Create Planting Pockets Between Pavers
There are two things about paved gardens that could be kinder to the environment.  One is that rainwater runs off the pavers instead of sinking into the soil as nature intended. The other is that plants can't grow in them.  But, if your landscaper is clever enough, you can create planting pockets between pavers. These could soak up rainwater and support interesting but low maintenance plants.  
How about filling your planting pockets with creeping thyme so that you get a waft of fragrance when you step on the foliage? Or why not go all-out and create a water rill which doubles as a rain garden directing rainwater runoff from your gutters into a reservoir?
Ideas For Paved Gardens 5: Stepping Stones
Garden paving doesn't have to be laid in one solid block.  Why not go for stepping stones instead? I love the way that these stepping stones blend into the rest of the garden and just invite visitors to engage with the planting and the water feature.
Ideas For Paved Gardens 6: Disguise Awkward Angles With Clever Laying Patterns
In all my years as a practicing garden designer, I can't remember ever seeing a garden that has a right angle in every corner.  And that can play havoc on the look of the finished garden if paving stones have to be cut to fit.  No matter how skilled the landscaper is, or how good the laying pattern, there'll always be at least one slither of paving slab that looks out of place.   
My answer is to embrace all of the contours of a paved garden.  Rather than spoil the look of the garden by having odd shaped slabs, create some odd-shaped borders instead.  In this small terraced garden, we've deliberately avoided making triangular cuts by creating beds and borders instead.  The plants here will grow tall enough to hide the fence panels and the mirror on the back wall will make the planting look doubly-lush.  Jungle style.
Ideas For Paved Gardens 7: Go For Maximum Impact By Using Patterned Pavers
Sometimes you want the paving in your garden to be functional but subtle, other times, you want to use it to make a statement.  This is one of those statement gardens.  We could have designed the path using natural stone and gravel in keeping with the rest of the garden. But this was (and still is!) A magnificent Victorian property and it deserves more than a boring flagstone path.
We've gone for a black and white tiled path, similar to to floor tiles on the other side of the front door.  The planting in this garden is beautiful, as are the formal hedges, but to my mind, it's the paving on the front path that truly steals the show.
Ideas For Paved Gardens 8: Try A Change Of Level To Create Different Zones In The Garden
It's quite common for gardens to slope slightly in one direction or another. Gentle gradients may not be obvious to the naked eye, but a topographical survey, (which is an important part of garden design), will reveal any anomalies. 
Landscapers need to lay pavers onto a flat surface with a  gentle fall of around 1 in 80.  That's enough to make sure that rainwater can drain away nicely, but nowhere near enough to make your coffee cup slide off your outside table.
Where there are natural contours, the garden designer indicates to the landscaper how to manage ground levels. That might involve retaining walls, terraces, steps or ramps.  
In any event, a change of level will allow you to create different zones within your paved garden. In this case, our clients use the upper level for outdoor dining, and the lower level as a walkway.
Special Offer On Paved Gardens
All of the gardens in this article, besides the Leeds Castle Courtyard and the modern courtyard garden, have been designed by Tapestry Design Studios and built by Holland Landscapes of Colchester.  The two companies work closely together to ensure that designs are more than just beautiful, they are practical too.
To celebrate their strong working relationship, the two companies are offering new clients a 100% refund on their garden design fee when they buy a garden designed by Tapestry Design Studios and built by Holland Landscapes.