05 Dec

Why it's important to set your landscaping budget early

It's so frustrating to feel that your dream garden lies way beyond your budget. However, by setting your budget early and collaborating with a good garden designer you could well afford the garden you want. Find out how.

When you have a big purchase to make how do you go about making choices? Do you make a wish list and then try to find the money? Or do you set a budget and look at what's available in your price range? Even though I have champagne tastes and lemonade pockets. When it comes to property, cars and holidays, I'm definitely in the 2nd category.

What about if your intended purchase is not "off the shelf"? Rather it's lots of different individual elements all blended together to make something wonderful. Something like a bespoke kitchen or a garden?
Setting a budget before starting a landscaping project and working with professional designers and landscapers ensures that you get best value for money
Very few people are lucky enough to have an unlimited amount of money to spend on a garden makeover. But it's surprising how clever garden design and careful project management can get best from your budget.
Designing a garden to suit your budget
The very first question the Tapestry Design Studio team will ask a new client is "how much are you hoping to spend?" The whole of the design process is then centred around that budget. We aim to design so that the whole garden, that's the design, the materials and the landscaping services, is affordable for you.
If there is no sum in mind, then we always encourage clients to set a budget before we start the design process. The last thing we want to do is raise anyone's expectations beyond what they can afford. And we certainly don't want to give anyone an unexpected bill.
A garden should be a joy in every single way. How can it enhance your life if you are worried about the cost of it?
Setting expectations via the garden design process
If you've read our website pages to find out how the garden design process works, you'll know that the cost of a garden design with Tapestry Design Studios includes a thorough site survey.
At the site survey we're not just gathering measurements, we're looking for potential complications with the build. By complications we mean things like large tree roots, utility pipes, difficult access for deliveries and the like. You may want us to design around them if we can, or you might want to use some of your budget to trim trees and re-route the plumbing.
Once we know what you'd like to see, what's practical for the site and what's affordable for you – we can put together a design that meets all 3 requirements.
Choice of materials
Tapestry Design Studios work closely with a landscaping company called Holland Landscapes. In fact we share an office with them. That means that if we get stuck, we can draw on their knowledge to estimate what materials and labour will cost for each element of a garden.
For example, a client might ask for a large patio area. We know from the site survey that building a patio in the clients preferred place will involve moving soil to create a level area for the sub-base. That's before we even start to think about choosing the pavers.
By talking to the Holland Landscapes team we can get a feel for how much the works would cost in terms of labour, machinery, skip hire, and materials for the base. Then we know what's left in the budget to spend on pavers. We make our suggestions accordingly.
If a big patio would use such a large proportion of the budget that everything else on the wishlist is compromised we can suggest alternatives. Perhaps a smaller paved area or a deck would work just as well? Or maybe we'll place the patio where the survey tells us that it would be quicker and easier to prepare the base. Our aim is design a garden that will meet the clients' needs without busting the budget.
Controlling labour costs
Probably the biggest proportion of a garden makeover is the labour. That's something that every good garden designer will be thinking about from the very beginning of the garden design process.
If we have an idea of your overall budget, we can work with what's already in the garden.
As an example, take a look at the before and after pictures for these two sloping gardens.  In one, the client had a large budget and plenty of access so we were able to recountour the garden. It was messy but effective.
This project near Ongar used large plant and machinery to move large quantities of soil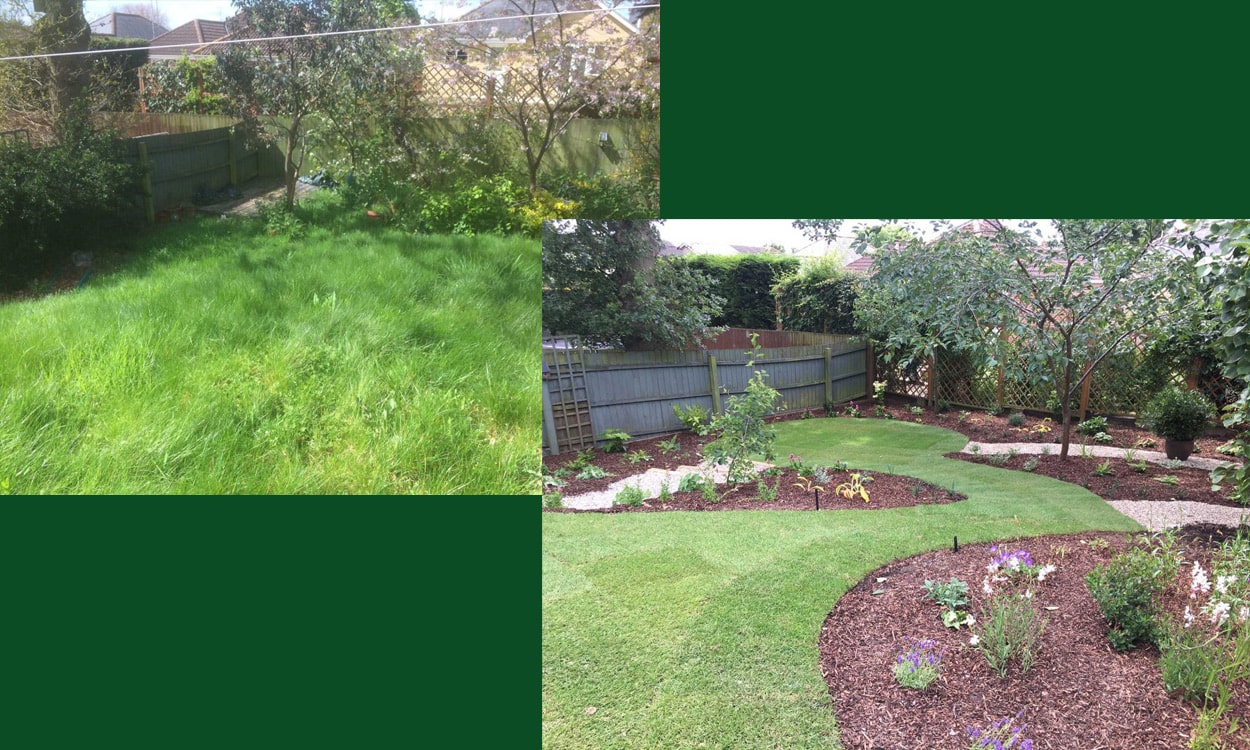 This sloping back garden near Colchester involved a moderate amount of groundwork but for the most part we worked with existing contours – and we retained some of the existing features to moderate costs.
Little ways you could save money on a garden makeover
Project monitoring
A good garden designer will be able to help you with project monitoring. Making sure that all goes to plan and stays within budget.
It may sound daft, but there are little tweaks that a garden designer and the client can make to stretch the budget. So if one part of the build takes up more budget than expected, we can make changes to keep the overall cost reasonable.
One option would be to choose younger plants and give them room to grow. It doesn't have the same immediate impact as using mature plants but it saves cost and you know the wow factor will be there in a year or so. Particularly if we choose fast-growing species. Or perhaps we could choose larger patio slabs – they're quicker to lay.
Working with a reputable landscaper
It may sound crazy but an experienced landscaper is cheaper in the long run. These guys are a whizz at project management, they employ craftsmen who can work faster (less head scratching – lower labour costs) and they tend to cope better with unexpected weather or hiccups.
Working with a trusted landscaper also means that you will feel confident leaving them alone in your garden while you are at work. If you can allow them access to your toilet and handwashing facilities, indoor taps etc your landscaper won't need to include the cost of a portaloo in the overall quote.
Little tweaks like that are industry secrets that your garden designer should be privy to
Managing your landscaping budget
Leave some money to one side as a contingency. Hopefully you won't need to use it and can spend the money on a garden-warming party instead.
Write two wish lists. One for "must have features" and another for "nice to include"
Engage a really good garden designer who understands the costs involved in building a garden. He/she can save you a fortune by planning properly
Find out whether your landscaping project might be VAT exempt – some are, but not many. If you're one of the lucky ones, it could save you money on materials
An experienced and reputable landscaper can put the wow factor into any project whilst keeping the costs fair and reasonable.
If you've ever watched Grand Designs on TV you'll know that when the project is managed and completed by professionals it is more likely to be finished on time and on budget. The same applies to landscaping.
Find out what you could have for your landscaping budget
If you have a landscaping project in mind, why not get in touch today and find out how Tapestry Design Studios will help you get best value for money.
Need inspiration? Take a look at our portfolio page