11 Jan

Vertical Garden Design: Making the most of a small space

Garden design is all about creating 3D experience. Some spaces are so compact that the only way is up. That's what this blog is all about. Vertical garden design.

Every garden design should take into account 4 dimensions. The view away from the property, the view towards the property, height and seasonal changes. In this blog we're looking at what you do with a garden where lack of space limits what can happen at ground level.
Living green walls
Living green walls are big news in commercial landscaping. They are being added to shop fronts and office exteriors because they have so many benefits. A living green wall can soak up pollution to purify the air. They actually cool the building they are cladding which saves on air conditioning bills. And in winter time they provide insulation. Don't forget the wildlife either – a living wall is a brilliant place for birds and bugs to find food and raise a family.
This living green wall in Singapore is the ultimate in vertical garden design. It's creating a green oasis in the middle of the city and consists of hundreds of plants established into planting pockets that are attached to a wall.
The huge living walls you see in towns are a marriage between engineering and ecology. Clearly there isn't a janitor going out twice a day with a watering can and a ladder. The irrigation on these walls is highly sophisticated and feeds the plants as it goes.
Could you reproduce a living green wall in your own outdoor space? Absolutely you can and there are lots of different systems to help you do that. The clever bits are a) setting them up so that they work properly and don't damage your property and b) selecting plants that can thrive in them.
Look for plants which are
Perennial: Replanting the whole wall every season would be tiresome and impractical.
Evergreen: Nobody wants to see a brown green wall on a miserable January day
Sensible growth pattern: Anything that becomes rampant or huge would be a no-no on a living wall. That applies to the roots as well as the foliage.
Interesting: Varied foliage shapes, textures and colours will give your living wall character.
Edible?: It's up to you, but you might want to grow herbs, strawberries or salad greens at the lower levels.
Suited to the light conditions: In a small courtyard it may well be that parts of your living wall are in shade for most of the day. While other parts are in full sunshine. Place your plants accordingly.
Balconies and Roof Terrace Gardens
Even the tiniest balcony can have a vertical garden. That way you can have plants and seating space.  Being able to sit outdoors surrounded by plants is just heavenly and will pay dividends in improved wellbeing.
You don't need to go the whole hog with a sophisticated living wall. A small vertical garden can easily be watered by hand. Think about using climbing plants in cleverly designed pots. Or, attach pots or baskets to the wall, mediterranean style.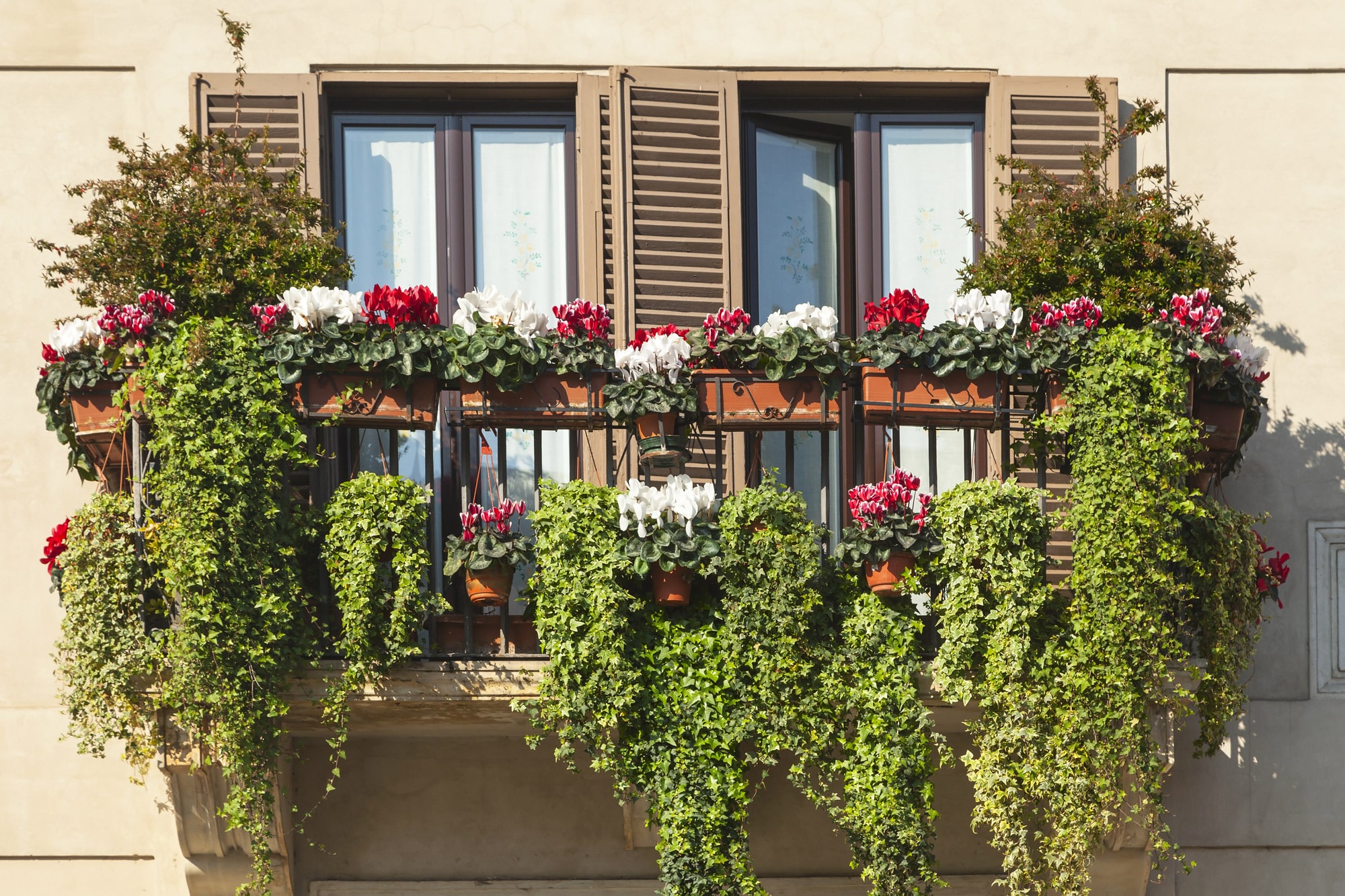 Vertical garden isn't just about plants growing upwards. Trailing plants are effective too.
Hedges and climbers
Vertical garden design is not just about green walls. Climbing plants, hedges and trees bring height to a garden too. A mixed native species hedge will offer privacy and all year round interest. Use it to create a marvellous microclimate for more tender plants.
A couple of well-placed small trees in pots can bring a small space to life. As can climbers twisting around a pergola. There is so much you can do with vertical gardening.
This town house entrance is defined by the wisteria draped over the gateway. There is literally no horizontal in this garden – the only way is up!
Buildings, Screens and fences
3D design applies to the structures in your garden too. If you want, you can use them as a support for climbing plants or train espalier fruit trees along them. But plants are not the only way to add interest.
Think about colours and textures. Perhaps consider using mirrors to make a small space seem larger or lighter. A fence with vertical slats is far more attractive than traditional panels from the garden centre and there are many different types of timber to choose from. Why not use a metal screen instead of timber, or even glass?
We've used blue glass tiles to create a small seating area whilst hiding the wheelie bins and washing line from view.
Southern Yellow Pine has been used here to create a simple seating area. Bright cushions and perhaps a potted  plant two would add luxury to this tiny space.
Image courtesy of Arbour Landscape Solutions
Another simple vertical gardening idea. Patterned screens can bring a wealth of interest to a small space, especially if they are combined with clever lighting. Can you imagine a screen like this replacing a boring larchlap boundary fence? Of even used as a trellis for climbing plants. Check out this website for inspiration

Remember though, in a small space, less is sometimes more.  There's a fine line between cosy and claustrophobic. The one thing I have noticed about tiny gardens, is that small flaws look huge. A tatty fence can undo all of your hard work so think holistically and include the whole space in your design.
Imaginative Vertical Garden Design
Don't ever think that any outdoor room is too small to do anything with. Clever garden design can make the most of every aspect from the flooring to the walls. If you have a drab, uninspiring space, we can turn it into somewhere that you want to spend more time.
Contact Tapestry Design Studios for help with your small garden
More about green walls – I particularly like the image of the free-standing living wall. It would make a beautiful screen for an outdoor dining area