07 Oct

Why use a professional garden designer?

Garden design is so much more than drawing pretty pictures and arranging plants.  In this article we answer the question "why use a professional garden designer?"

Would you build a house without consulting an architect? Even when you know what you want, you still need someone who can survey the site and understand which materials will give the best results for the best price. As well as ensuring that the planned building will be fit for purpose and care for the environment. Ditto for garden design. When you are thinking of changing levels, incorporating wiring, altering drainage and building permanent structures, it pays to consult an expert.
5 reasons to use a professional garden designer
To inspire and enthuse you
Make the best use of every bit of outdoor space
Help you work with the limitations of the site
Ensure that the work can be done within budget
To make it easier to choose materials and plants that you like
Inspirational ideas for your garden
It's probably a controversial thing to say, but garden designers seem to look at spaces differently to how a landscaper or a homeowner might.  So where you might see a rectangular garden just right for a patio at one end and a shed at the other; a garden designer might see a sinuously curved path with leading to a sunny seating area. Then behind a screen draped with fragrant climbing plants are with the shed and the washing line.
Take a look at these before and after pictures. This garden was designed by Tapestry Design Studios and built by Holland Landscapes.
Notice how a previously narrow garden, hardly wide enough for a path, is turned into an inviting space for relaxing.
Before: This narrow garden was a challenge to the homeowner. With nowhere to sit it was rarely used….effectively a wasted space
After:With a little bit of imagination and the magic touch of a professional garden designer, this previously redundant space becomes an inviting modern seating area just right for relaxing and entertaining. The client plans to surround the lawn and patio with soft planting.
How to Make the most of every bit of outdoor space
A garden design should consider benefits first, features afterwards. (You want to feel relaxed? How about bringing in the sound of moving water?)
The first question a good garden designer will ask you is "What would you like to use your garden for?" Most clients have a relatively short list but as we chat, that list will grow. Very often it will include things like
Cooking and eating outdoors
Enjoying a coffee and a read of the paper on a sunny morning
Having a safe and attractive parking space
Storing wheelie bins (boring but true)
Drying the washing
Maintaining bikes
A play space for children
Safe place for the dog
Entertaining friends and family
Growing herbs and food
Supporting wildlife and doing your bit for the environment
Keeping fish/birds/small furries
Pottering around
Offering a nice view from the window
Adding value to the property
The list goes on and on and you'll be surprised at how many features and benefits a professional garden designer can fit into a space without making it seem cluttered.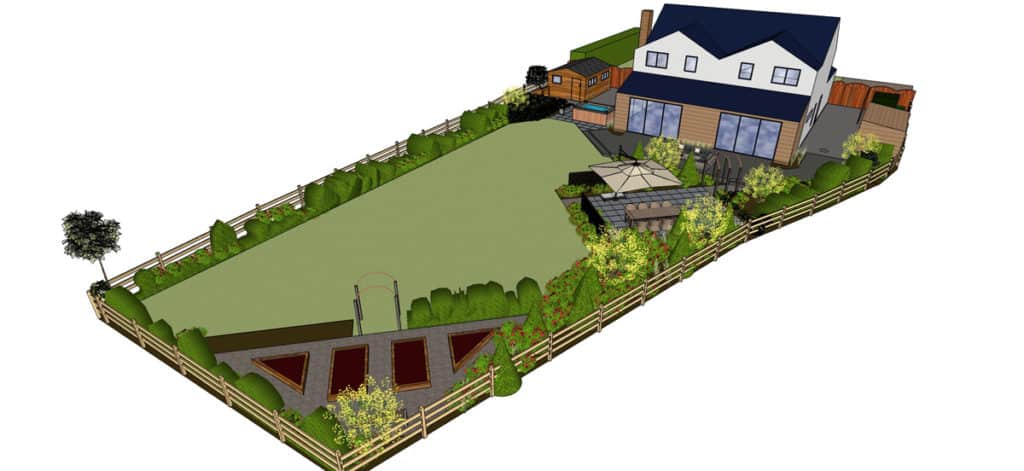 The wishlist for this garden included an intimate entertaining area, hot tub screened from the neighbour's house and a space to grow veg that didn't look like an allotment. A computer generated garden design helped the clients to visualise how they could use the garden – it also ensured that the landscaper knew exactly what to build and where.
Working with the limitations of the site
From understanding what the garden is for, what the client likes (and hates) and what the budget for works might be, a garden designer will carry out a thorough survey to see what's possible.
The site survey will look at everything. Not just dimensions but drainage, privacy, soil type, light and shade, slopes and levels, utilities, any local planning restrictions, accessibility, the age and style of the property, views from the garden
Getting the most from your garden makeover budget
We can all dream. I'd like to have a swimming pool and a fully equipped outdoor kitchen in my garden but with my budget, that's never going to happen. So it makes no sense to design a dream that can never come true.
One thing the Tapestry Design Studios team pride ourselves on is creating realistic and achievable garden designs. We consider every element of a garden build – because very often a big proportion of the cost of creating a garden goes to the bits you'll never see. The contouring, the drainage, the sub-bases, foundations etc.
For example. The client might want a large patio beside the house, but if the garden is steeply sloping, that might involve groundworks to re-contour the site. Is there enough budget for groundworks? If not, we'll find a more cost-effective way to achieve the goal.
The soil type in this garden coupled with a high water table meant that creating this wildlife pond involved special engineering to prevent "hippo-ing". Hippo-ing occurs when the pond liner is lifted from beneath and can be seen above the surface of the water. The garden designer considered the engineering cost while she was creating the concept plan.   Read the case study here
How to get the garden look you want
There is a vast array of landscaping materials available to use in UK gardens. When you use a professional garden designer, the choice is vastly reduced. Just explain the look you want to achieve, perhaps find some pictures of gardens that appeal you, and then your garden designer will narrow down the choices of materials for you.  Likewise for plants – it's easy to spend hours in a garden centre imagining how plant combinations might look and wondering if they'll grow in your garden. That's our job – garden designers are horticulturists as well as artists. We paint with plants – but only the ones that will love your garden.
Another consideration is communication. How do you describe your garden ideas to a landscaper? If he or she misunderstands the brief you could be very disappointed with the finished article. And trust me, mistakes in landscaping can be costly. A professional garden designer will create a master plan showing level, dimensions, materials and plants. It allows your landscaper to quote fairly. Plus, if you are approaching more than one contractor for prices, you can be reasonably sure that they are quoting like for like.
Why use a professional garden designer?
If you want the wow factor for your property but don't know where to start, a professional garden designer can help.
At Tapestry Design Studios we offer a range of design packages to suit any budget. Tap into our expertise and get the garden of your dreams for a price you can afford to pay.
Click here to see before and after pictures of some of our work
What does garden design cost? Check out our garden design packages