03 Jun

Designing lifestyle gardens

Lifestyle gardens, not only encourage you to make more of your outdoor space, they also look good enough to grace the pages of a magazine. Here are our tips on designing lifestyle gardens.

I guess, in a way, all of our clients aspire to lifestyle gardens. They want to transform their outdoor room into a place that they feel comfortable enough to relax in. They also want to be able to invite friends and family over without being embarrassed by the lumpy lawn or the pint-sized patio. At Tapestry Design Studios we help people create insta-worthy gardens that look good and perform well all year round.

Imagine relaxing with a drink as the sun sets over this lifestyle garden.
The layout and planting plan ensures that every season has a different "wow" factor
What does a lifestyle garden mean for you?
The first stage in designing any garden, is to decide what you want to use it for.  Is it for socialising? For relaxing? To grow organic fruit and veg? 
Will it be an outdoor exercise space? An al-fresco dining area? An open air kitchen? Home to your hot tub or a mix of all of those things?
A good garden designer will help you to decide which features you need in your garden in order to support your lifestyle. Then he or she will suggest a layout that connects all of those things so that they are easy to access. The ideal lifestyle garden will "flow" from one feature to another and have a mix of social spaces and secluded spots. 
Bringing designer chic to your garden
Just as a designer garment is all about the cut, the fabric, the quality, and the style; a lifestyle gardens use layout, materials and vision to create a unique space that suits your personality.
The cut of a dress can truly enhance a figure.  Using shapes and layout tricks in a garden deceive the eye into believing its bigger/wider/more private than before the makeover.  For example, circles, diamond shapes and 45 degree angles can make a space seem less narrow. 
A truly chic garden will have one or more focal features to create points of interest. Perhaps a piece of art, a specimen tree, a bright cushion or a pool. For evening time, these can be carefully lit to change the ambience.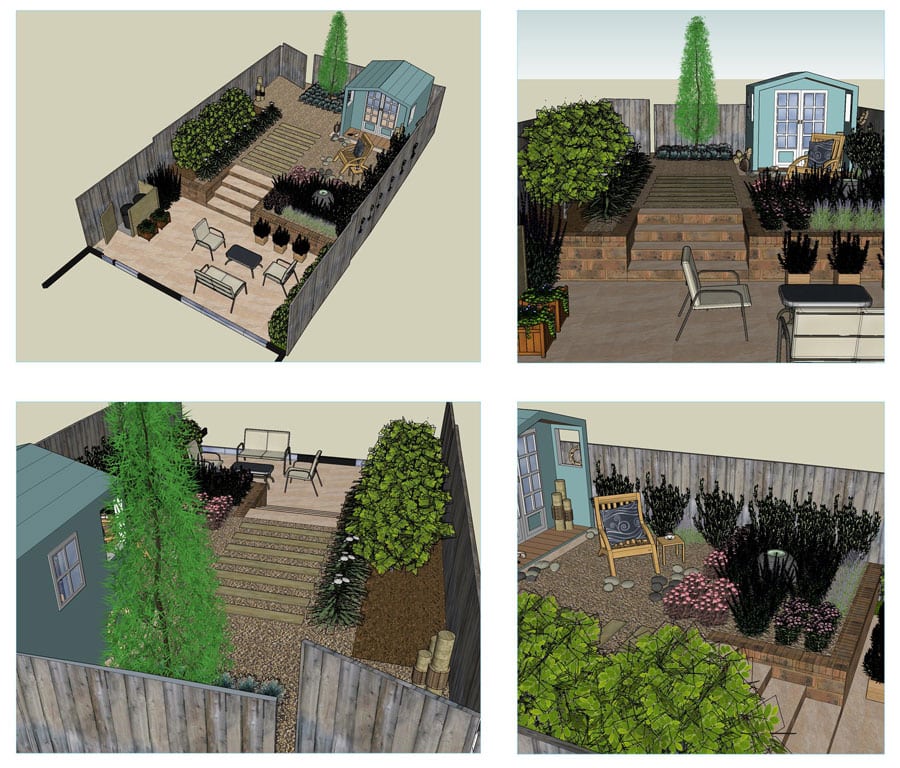 A coastal themed lifestyle garden with mixed materials creating a relaxing ambience.
This garden is being built by Holland Landscapes
Garden designers spend every working day – and most of their days off – thinking of different ways to combine various landscaping materials, plants and colours.  It's the mix of material that will bring designer chic into your garden.  Little touches like edging a porcelain patio with pavers of a different shape or colour. Painting a summerhouse to bring out its character or placing striking plants against a dark background for maximum contrast.
Experimenting with plants and materials is all about understanding their properties, knowing how they mature and, of course, matching them to the garden owners' personal tastes.

Focal points like this pretty water feature appeal to different senses. Here it's sight, sound and touch.
You might also want to think about scent and taste in the garden.
Maintenance Matters
For your garden to stay picturesque for the foreseeable future – it will need a certain amount of maintenance. Garden designers understand landscaping materials and can help you find the right plants and products for you.
When designing  lifestyle gardens, think hard about how it will be maintained.  Will you employ a gardener to keep lawns trimmed and the paths swept? Or will you and your family be keeping the garden neat? 
Are you an experienced gardener? An enthusiastic learner or someone who suffers from  Bufonophobia? (fear of plants)
Whether you are looking forward to gardening or want to avoid it at all costs, your garden designer will suggest a layout, materials and plants that best suit your needs.

Comparing and contrasting clay pavers as possible materials for a lifestyle garden for one of our clients
Finding designers for lifestyle gardens
The single, most important thing about finding a garden designer, other than knowing that he or she really does understand the craft, is that you like them.  Garden design – especially for lifestyle gardens – is about communication and creativity. If you feel someone isn't trying to understand your needs, then the relationship won't thrive.
You'll find the team at Tapestry Design Studios very empathetic – which is why we've been invited to design gardens for a wide range of personalities and lifestyles. From retirement gardens, to family gardens, to entertainment gardens. Take a look at our portfolio for inspiration and get in touch for help designing your own, unique lifestyle garden.
How to contact Tapestry Design Studios
Interesting articles about lifestyle gardens
Garden storage ideas to keep your outdoor space neat
Designing a low maintenance gravel garden