12 Dec

Key factors in good garden design

Have you have recently moved into a new property and want to make the garden your own? Or has your plot has had so many additions and changes over the years that it no longer looks or functions as it should? If that's the case it's well worth investing time in a good garden design that really does make your outdoor space as practical and inviting as it could be.

Good garden design will not only add value to your property. It will encourage you to spend more time out of doors. Maybe eating, socialising, reading or just relaxing. There is a strong link between wellbeing and nature and so your beautifully designed garden can help you feel better. And let's face it, you're paying for that outdoor space, you really ought to make the most of it.
Putting together a good garden design
When you design an outdoor space you need to ask yourself some questions. The answers to those questions are your key considerations.
1:What do you want to use your garden for?
Make a list of everything and try to think ahead if you can. For example.
Do you want to cook and eat out of doors?
Grow your own vegetables?
Dry the washing?
Store the bins?
Gain access to the garage, shed or back gate?
Do you have children or pets who will be using the garden?
Do you need to think about wheelchair access?
Now that you have a list of functions, what features could you put into the garden to meet all of those needs?
Forget about favourite colours for the moment – believe it or not good garden design doesn't think about accessories and plants until the infrastructure is settled on.
These two pictures show how good garden design can transform a challenging space. This sloping garden is shaded by large trees and before the new garden design was implemented, parts of it were difficult to access. Careful design has created an inviting space which has potentially added value to the property and improving its owners quality of life
2: What's on your wish list?
If space and budget were unlimited, what would you put into your garden? A natural swimming pool? A kitchen? A gym? Cinema?
Do you think that these features can realistically be included on your plan?
3: How will all of the features work together?
Now you're getting to the actual planning bit.
Visualise how you might use your outdoor space and how best to arrange all the features you need.
Where will you enter the garden and what will you want to see or do first?
Perhaps from the patio doors you'd want to step straight into an outdoor eating area and from there onto a lawn where the children can play but still be seen.
As you walk from the back door towards your garden office, do you want to meander along paths flanked by scented shrubs or do you want to go straight there? Will you want shelter for rainy days?
Good garden design is more than just placing items. It's about visualising how they will look from every other part of the space – including from the upstairs windows. How will you move around the garden? Do you want to see everything all at once or do you want features to be revealed as you explore?
4: Thinking in Patterns and Lines
Think about lines. A line can be created by a tree trunk, a path, a fence, the horizon. Whatever you add into your garden design consider the lines it will create and how they interact. For example, a line leading away from you – eg a path – tends to draw you forward. A line that crosses your path – eg the edge of a patio – will slow you down.
Straight lines are orderly and formal, curved lines take the eye on an intriguing journey. Vertical lines, draw your attention upwards and invoke a feeling of strength, horizontal lines are soothing (think of how the sky meets the sea)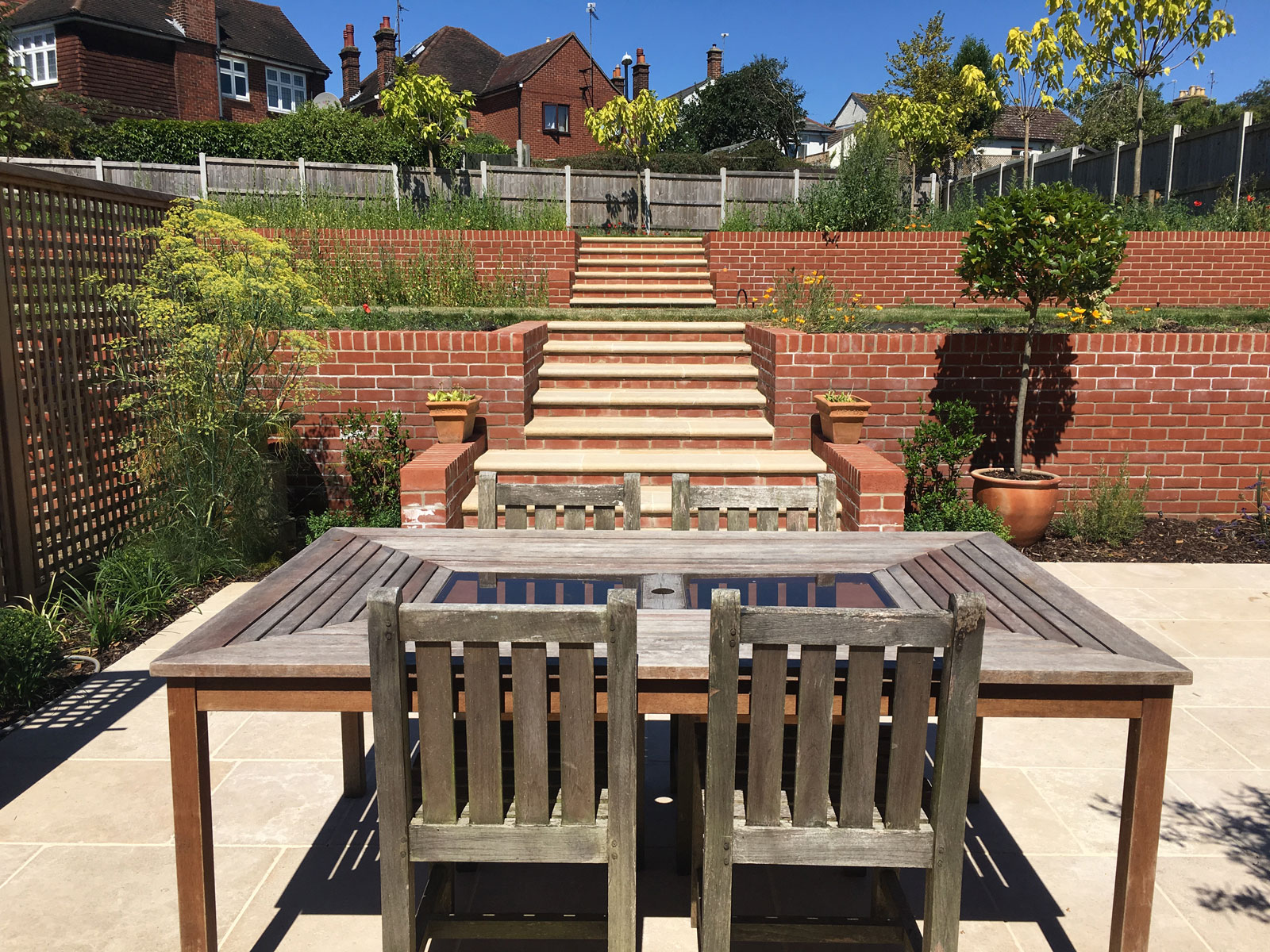 This back garden in Colchester has strong lines leading away from the patio towards the focal point created by a tree. Horizontal lines of the steps and the planted terraces encourages one to take things slowly and enjoy the garden. Garden built by Holland Landscapes
Repeating features makes a pattern and brings rhythm in the garden. Think of a line of tall straight Cypress trees or a series of topiary balls that gives an undulating line.
5: What's your style?
Now it's time to think about style and theme?  What sort of look and feel fits best with the house, the neighbourhood, your personality and lifestyle and of course your budget?
Will your garden be themed? Perhaps you like the idea of a Japanese style garden, or would you prefer a cottage style garden? Are you a fan of formal layouts? Does a modern, contemporary design appeal to you?
6: Tricks of the trade: Angles, curves and symmetry and scale
Clever use of angles or curves can make a space look larger. For example, an offset lawn can make a long narrow garden look wider.
Apparently, the more symmetrical a human face is, the more attractive it appears.  Symmetry and visual balance are vital components of good garden design too.
An important part of visual balance is scale. Will a garden office look out of place in a small garden? Not necessarily – if you are careful how you place it in windows, gates, doors and paths.
Plant selection
Believe it or not, the planting plan is the very last thing to be fitted into your design. Will you use architectural plants to provide pattern and rhythm, soft planting for movement? Wildlife friendly plants?
Plants need to suit the soil type and the aspect too. Careful planning can ensure your garden has all year round interest.
This quintessentially English style garden in Colchester is wheelchair friendly and has a whole host of interesting features. Curved lines and wildlife friendly planting in soft colours give the space a relaxing feel so that visitors can't help wanting to explore further
Why ask a professional garden designer for help?
Garden designers are trained to combine lines, symmetry, form and function in a way that pleases the eye, is easy to use and matches the style of the surroundings. They use hard landscaping materials and plants to create a balance between practicality and beauty. Good garden design truly is an art form.
Trained garden designers are not just artists.  They understand the practicalities and the cost of building a garden. Garden designers know what different plants need and how they perform and are in touch with all sorts of suppliers. These professionals know what materials are available and where to find them. As horticulturists, they have a good idea of what ongoing maintenance will be needed and how to minimise the workload for non-gardeners. Most importantly of all, they can design a space that could adapt over time to meet your changing needs.
A consultation with a qualified garden designer can cost from as little as £145*.  It's a great way of brainstorming and helping you to consolidate your thoughts before moving on the next stage.
And remember, designing your garden is not the same as building it. A garden designer can prepare a plan for you to work from yourself or with your preferred tradespeople. Or your designer can recommend a landscaper to do the work for you.
More and more people are turning to garden designers for help – perhaps you should too?
*price correct at time of writing.
How the professionals do it
A step by step guide to designing and building a new garden
Search for inspiration