09 Sep

New Build Garden Ideas

New build properties tend to be a blank canvas – indoors and outdoors. So how can you put your own stamp onto a new build garden and turn it into a beautiful outdoor room?
Think very carefully about how you can use your garden
Create a wish list. Which garden features are essential?
Look at your design options. What's your personal style?
How much time do you want to spend on garden maintenance?
Work out your total garden makeover budget?
Consider asking a professional garden designer to help bring your ideas together
Check out our top 6 ideas for new build gardens
Turn that blank canvas into a useful space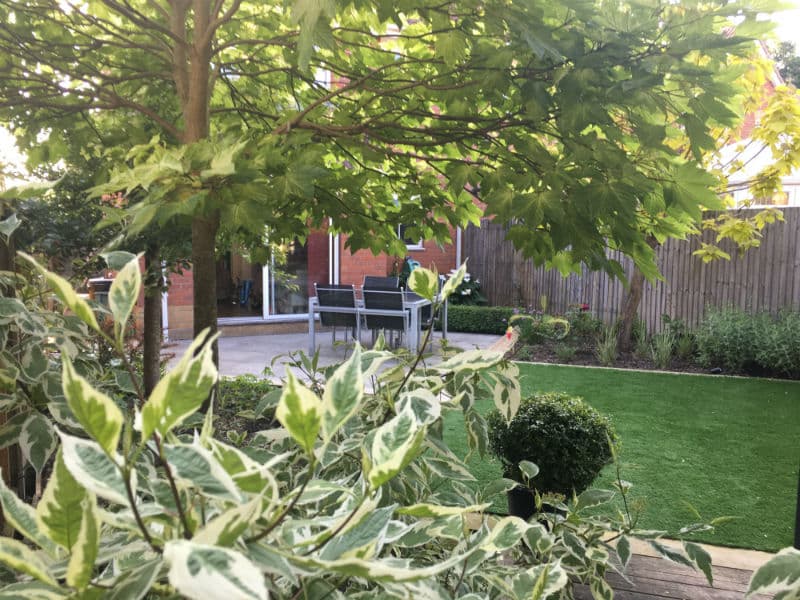 A family friendly new build garden with planting for privacy and space for al-fresco eating and outdoor play
In your opinion, what is a garden for? Is it a play area for children and pets? Somewhere for you to relax? A place that supports wildlife and the environment? A space for al fresco eating and entertaining?
A garden has so many potential functions and with clever design it really can multi-task. There's no reason why you can't have a wildlife friendly entertainment space that houses a home office and that looks beautiful and is loved by every member of the family.
So start by writing a list. Who is your garden for? and what features would they most want.  Don't forget to divide the list into "must haves" and "nice to haves". Oh, and it's also useful to make a note of what you don't want.
New build garden ideas
If your new build garden looks a bit like this – don't despair. With a bit of TLC and the skills of a garden designer, it could be transformed
The same garden after some attention from a garden designer and a skilled landscaper.
Easy maintenance, packed with interest and beautiful from all angles – even the view from the bedroom window has been transformed.
Bringing your personality into the garden
Personality and style are hard to define. But when you see them you just know. When I'm designing a garden for a client I like to visit the garden and get to know the people who will use it. Subtle signs like what they drive, how they dress and even which mugs they use for tea and coffee tell me a lot about their likes and dislikes. If they can name or describe their favourite plants, I know they'll be interested in the planting design. If they talk about surfaces then they'll probably be drawn to the precision of hard landscaping.
A traditional lawn with a modern twist. Never be afraid to use shape and texture to bring personality into your garden
Do you want intimate spaces with lots of privacy or do you want your garden to feel big, spacious and open?
If you are designing a new build garden and you're not sure what you want, why not visit some inspirational gardens? Take photographs of the elements you love and add them to a mood board. Pinterest is a great place to look for ideas. I just typed "new build gardens" into the search bar and found all sorts of ideas – some great, some not to my taste.
In the early stages of garden design, concentrate on the layout, the hard landscaping (paths, patios, decking etc). Furniture, accessories and plants come later.
Embrace the characteristics of your new build garden. This slope has been turned into a unique feature by bringing in a winding path and some gentle steps.
Garden Maintenance
Something to think about before you even begin your design is maintenance.
Too busy for gardening? A cottage style garden crammed with plants may not be for you…unless of course you plan to have help.
New to gardening but keen to learn? Why not include some raised beds or a small greenhouse so that you can experiment with seeds, cuttings and vegetable growing?
Hate mowing? There are all sorts of alternatives to natural lawns. Including artificial turf, low maintenance groundcover plants, paving, gravel…..the list goes on.
More ideas for alternative lawns
Budgeting for your new build garden
Once you start factoring in structures, materials, labour, plants and accessories it's very easy to lose control of your budget. My advice is to set a budget before you start planning and talk to a garden designer who also understands build costs.
You may want to do some of the work yourself, but please do make sure you have the skills set first, otherwise you may run into unexpected costs. A badly laid patio will surely disappoint and you will still have paid for the sub-base, fixings, grout, tools and pavers.
You'll find some helpful advice on budgeting for a new build garden on our sister website Holland Landscapes
Working with a garden designer
A good garden designer can save you money and help you create a really impressive garden. One that will truly enhance your life without busting your budget. A professionally designed garden will be somewhere you want spend time in, show off to friends and family and ultimately feel proud of.
Design software helps you to visualise your new garden layout far more effectively than a 2-dimensional plan.
Once you are happy with the layout, your designer can add more features and details.
The Tapestry design team even have software that can lead you on a  "walk" through your garden design – it's almost as though you are really there
How much will it cost to design a new build garden?
A design for your new build garden will probably cost less than you think. Because the service is bespoke, it's not possible to give a firm quote in a general article. However, as a rough guide, to assess your garden and design a layout with plant suggestions costs less than £500* for a 100m2 garden.
You can find out more by exploring our website. These pages will be particularly helpful
*price correct at the time of writing but may be subject to change
Useful Tips On Creating A Garden For Your New Build Property
Read our illustrated article with 6 inspirational ideas for new build gardens
Please be sure to protect yourself against rogue traders and inexperienced landscapers. You might like to read this article about tendering services and choosing reputable tradesmen to help construct your new garden.
Getting quotes and choosing a landscaper
Contact Tapestry Design Studios for new build garden ideas
View our portfolio – it's stuffed with ideas for garden makeovers