12 May

Six Ideas For New Build Gardens

. Need for inspiration for the garden of your new home? Here are six original ideas for new build gardens.

Katie and the team at Tapestry Design Studios are frequently asked to come up with ideas for new build gardens. And it's something that they love doing.  The scope for personalising, even a tiny garden, is immense and, of course, the space is usually a beautiful blank canvas with little more than a shed, a fence, a few pavers, and perhaps some turf.
Six Ideas For New Build Gardens
These six ideas for new build gardens have been taken from our garden design archives. Take a look at the 'before' pictures and see if you can visualise what they'll look like when the design has been brought to life.
Gravel garden with no lawn
Long narrow garden
Tiny townhouse garden
Family garden with large lawn
L-shaped garden with summerhouse
Garden for cooking and eating al-fresco
Gravel Garden With No Lawn
Our clients had been living in their new build property for a couple of years before deciding to invest in their garden. They knew exactly how they wanted to use the space. And they also knew that it was virtually impossible to keep the lawn nice and green in summer.  
Having got to know the pros and cons of their outdoor spaces, they approached Katie and asked her to design a drought tolerant garden that would look good all year round and be easy to care for.
This design was inspired by Beth Chatto's gravel garden and could easily be adapted for a new build plot of any size or aspect.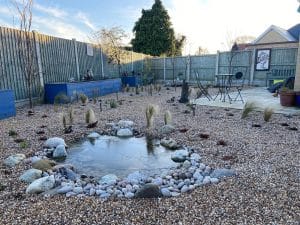 Long Narrow Garden
We've learned over the years that new build plots come in all sorts of shapes and sizes. It can be hard for the untrained eye to think of ideas for new build gardens that are differently shaped, but Katie and her team love a challenge. And with their combined expertise, experience and imaginations, they can work wonders with garden design.
This long narrow garden will have a seating at the far end to entice the family to use the whole garden.  There are a choice of journeys to that seating area. One is a series of stepping stones through woodland plants, the other is via a sunny gravel garden. 
Tiny Townhouse Garden
Even the smallest of spaces can be stylish!  This three storey townhouse in Colchester has a small garden that is completely enclosed by high fences.  However with the right choice of materials and a clever layout, the space doesn't feel at all claustrophobic.
Our clients wanted to be surrounded by plants. So, to maximise the 'floor' space, Katie has incorporated a living wall which will blur the boundaries of the garden and make it feel much larger. 
Family Garden With Large Lawns
This garden was typical of most of the newbuild properties we design for.  It consisted of a generously sized lawn, a small patio, timber fencing and a lovely view of the back of next door's garage.
Our clients wanted more interest, space to relax and great views from their patio doors.
Katie's plan includes a secluded seating area to the rear of the garage. This cannot be seen from inside the house and offers great views of the mixed planting along the opposite fence.  It is 'hugged' by a mixture of shrubs and herbaceous plants.  
A second, more casual seating area offers the ideal spot for a quick coffee, while the existing patio is used for outdoor dining.
A large lawn links all of the features and generous planting disguises those timber fences.
L-Shaped Garden With Summerhouse
Whenever the client's budget allows, we like to include summerhouses in our ideas for new build gardens. A summerhouse can add extra living space to the property and offers somewhere to escape the hustle and bustle of family live.  Use it as an office, a gym, a craft room or just somewhere to relax whilst listening to the birds singing.
This garden features planting pockets within the patio to give a great view from the patio doors.
Garden For Cooking And Eating Al-Fresco
Outdoor cooking has become an integral part of the modern lifestyle.  Whenever we discuss ideas for newbuild gardens with clients, we always ask whether they need an outdoor kitchen.
This garden has a lovely dining terrace in the sunniest part of the garden.  This is linked to the house and the bbq area by a connecting path.  Lighting would make the path and terrace easier to use on those long hot summer nights when everyone wants to make the most of the cooler air.
Rather than design one enormous lawn, Katie has used planting to divide the garden into two smaller 'rooms'. An afternoon terrace offers attractive views of the mature trees and climbing plants on the fence line.
Don't forget the utility area and bin store which is hidden away at the side of the house, but still in easy reach of the back door.
More Ideas For New Build Gardens
The finished garden images in this blog have been supplied by Holland Landscapes.
I hope that our ideas for new build gardens have inspired you to make more of your outdoor spaces.  If you would like to chat about a professional garden design, please do get in touch with Katie or Paul at Tapestry Design Studios. 
You'll find more ideas and information about new build gardens here.  
Here is an insight into the thought process behind designing a newbuild garden.