16 Jan

Plan ahead for spring colour in your garden

With a little forward thinking, you can enjoy your garden all year round. Here are some ideas to help you plan ahead for glorious spring colour in your garden.

Are you longing for spring to arrive? I know I am. But when it does, I want my garden to look its very best. In my job that's pretty important. My own garden is my playground. It's where I test plant combinations and try out new varieties. I use the winter months to try to plan ahead for spring colour and I can help you to do the same.
Where to inject spring colour in your garden
What's the first thing that springs to mind about when someone asks you about spring colour in the garden? Before I trained as a garden designer I might have said "tulips and daffodils". Now I can happily reel off a long list of plants and accessories that can bring colour and life to your plot.
Pots and planters
Foliage plants
Flowering plants
Climbing plants
Hanging baskets
Trees – foliage, bark and flowers
Fences and buildings
Art installations
Visiting birds
Lighting
Patios and paths
Aggregates
Furniture and furnishings
Probably the quickest, simplest and cheapest option for introducing a splash of spring colour in your garden is to use pots and planters.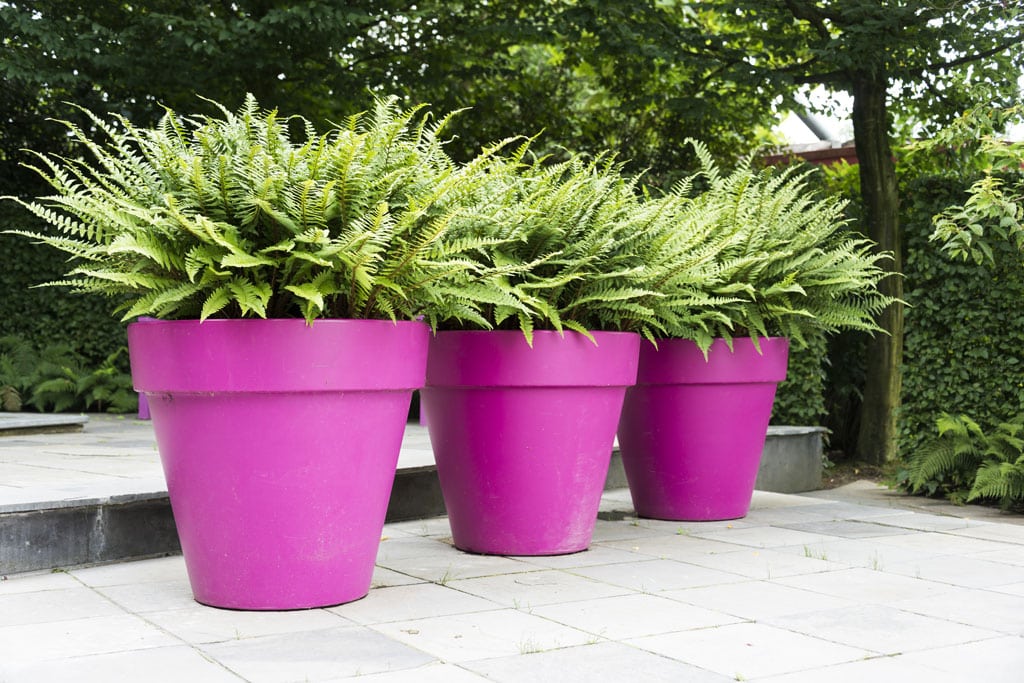 These pots bring a bright splash of colour to the garden. For maximum impact, use them in groups. Lined up like this they make an interesting feature.
For 2018 look out for the colour "ultra violet". It's the pantone colour for the year.   Use it accessories such as waterproof scatter cushions, wall art or stained glass panels.
For spectacular spring beds and borders
If your beds and borders were a bit lacklustre last spring, it's not too late to change that for this year. Start planning now.  I'm writing this blog in January so it's a bit late to plant spring flowering bulbs. However there are plenty of flowering shrubs, ornamental grasses and herbaceous perennials that you can plant in winter and enjoy in spring.
In fact, with clever planning your spring spectacular could evolve into an exciting summer display that continues to delight you through the autumn and winter months too.
Don't forget to use height, texture, movement, sound and scent. A really interesting garden has many different facets – but not so many that it invokes confusion and sensory overload.
For spectacular spring display, don't forget to use climbing plants. This Clematis 'Early Sensation' flowers in April. Not only does it look good – it smells lovely too.
Photo credit to Thompson and Morgan. Order online from Thompson and Morgan

Clever lighting makes the most of spring evenings
One of the things I love about spring is that the clocks go forward and we get more daylight at the end of the working day. But in early spring, it still gets dark quite early. Why not use strategically placed lights to highlight interesting shapes and colours in the garden?
Bringing boundaries and buildings into the plan
Plants are not the only source of colour. Fences and garden buildings can be used to introduce a pop of colour into the spring garden too.
The muted colour scheme in this garden is led by the paving, the furniture and the summer house 
There are some beautifully coloured wood preservatives and paints available from DIY shops so have fun with them. If you don't like the results you can always paint over them again!
Check out this selection of garden paints and colours
When maintenance matters
Anyone with a good eye can go the garden centre, pick out some plants that look good together and arrange them in a planter or a bed. However, if the plants are wrong for the soil type or the aspect, that display will be short lived. Similarly, if their maintenance needs are not met, they won't be there for long. Many people select one or two of lots of different plants, but consider the effect created by doubling up on fewer varieties to create blocks of colour.
If you are not a confident gardener, asking a horticulturist for help can ensure that your garden looks good all through the year and also better every year. Someone like Katie Moyes, Head Garden Designer at Tapestry Design Studios, whose horticultural and design understanding of plants can save you a lot of money in the long term. This is a lady who loves matching plants with people and places and would happily create a planting plan for you. Along with a planting plan, she can supply helpful cultivation notes on keeping those plants in tip top condition.
Creating your spring garden
You may not have the budget for a full garden makeover but implementing a planting plan devised by a trained garden designer really is one of the best investments you could make for your garden. Armed with an amazing planting plan and some simple aftercare instructions you will soon be impressing friends, families and neighbours with your new found gardening skills.
For more helpful garden design advice
Learn more about the garden design process
Get in touch with Katie Moyes for help planning the spring colour in your garden