12 Mar

Your spring gardening checklist

Much as I love snow, it's certainly good to see the back of it. It's quite blustery today but lovely to see the daffodils dancing in the wind. And it's a lovely reminder that it's time to make a start on spring gardening jobs.
Priority Task: Mend sheds and fences – with security in mind
This is probably the least exciting item on your spring gardening checklist. But it could be the most important. Everytime I log onto my social media account I see reports of a theft in either Essex or Suffolk. Tools are disappearing from sheds and from vehicles stood on driveways. And worse – pets are being taken too. My heart goes out to the victims of break –ins and I dread it happening to any of my friends and family.
An important spring gardening job this year is checking your garden for security. Are your fences and gates in good condition?
Could you redesign the layout and content of your garden to make your property less attractive to thieves?
The good news is that garden design and landscaping can help to protect property and pets. This blog from Holland Landscapes in Colchester offers some hints and tips on landscaping for security. I'll repeat the link at the end of this post so you don't need to interrupt your reading right now.
https://www.hollandscapes.co.uk/landscaping-for-security/
Have a good tidy up
Spring cleaning is not just for indoors. Take advantage of a nice day to reorganise the shed, sweep the patio, clean the decking and have a general tidy up.
Check that climbing plants are securely attached to their supports, clear away dead foliage and weed the flower beds.
Pots and planters often look a bit mud-spattered at the end of winter. A quick wash with warm water and a mild detergent will soon have them looking pristine again.
Don't forget the outdoor furniture. If, like me you're a fan of timber furniture, it's a good idea to treat it with a preservative in early spring. Make sure it's thoroughly dry first though.
While you're working you can make plans for the summer…..more on that later
Most timber garden furniture will benefit from a preservative treatment in spring. Check with the manufacturer which is best for your tables and chairs.
Spring lawn care
All too often we take our lawns for granted. But actually, when it comes to garden design, the lawn can be one of the most important elements.
Compare your lawn to the flooring in your house. Most of the time visitors take it for granted and instead admire the pictures on your wall or the comfy cushions of your sofa. But, if the flooring was in poor condition, the whole room would appear unkempt and shabby.
It's the same for the lawn. It's not necessarily meant to jump out at you. In garden design terms, the lawn leads your eye from one feature to another and provides a backdrop to the hard landscaping and the planting. If the lawn looks awful though – so does the entire garden.
Your spring gardening checklist MUST include some simple lawncare tasks.
A lovely lawn is an important part of garden design.
If your garden is built on Essex or Suffolk Clay soils, your spring gardening regime should include lawn aeration to help with drainage.
As soon as the weather warms up, you can mow your lawn. Make sure the mower blades are really sharp – have the mower serviced if you're unsure. For the first cut, all you need to do is literally take the tips off the grass blades. That's enough to stimulate the plants to start growing strongly.
Start your lawn feeding programme in March by applying a spring-summer lawn feed.
If moss or waterlogging are a problem, ask a lawncare professional to scarify and aerate your lawn.
There's plenty of information about lawn care and lawn renovation here.
Plant hardy perennial borders
I love hardy perennials. They're such good value. If, last summer, you were disappointed with the display in your garden, now is the time to plant the hardy perennials that will bloom in summer and autumn. It's a really satisfying spring gardening task that will fire your imagination and get your circulation going.
It's important to choose plant species that will enjoy living in your garden. Plants are a bit particular about the amount of sunshine and water they can access. Some are also fussy about the acidity or alkalinity of your soil.
When you pick the right plants and arrange them beautifully according to the colours of the foliage and flowers as well as the height, spread, growth habit and texture you are almost guaranteed to be delighted with the results for many many years.
A sure-fire way to get planting just right is to ask a garden designer to create a planting plan for you. It's not as expensive as you might think. You'll avoid impulse-buying expensive plants that later die and you'll probably discover some interesting new plant species too.
Learn more about hiring a garden designer to create a planting plan.
Planning your summer garden shenanigans
On a lovely spring day, it's not difficult to imagine spending the whole of the summer out of doors. So what do you need in your garden to allow that to happen? Here are my favourite summer garden features
Seating area with furniture for alfresco entertaining
A pergola or gazebo for privacy and shade
Safe play area for children or pets
Beautifully coloured or scented plants
A mini allotment so that you can grow your own food
A water feature for movement and sound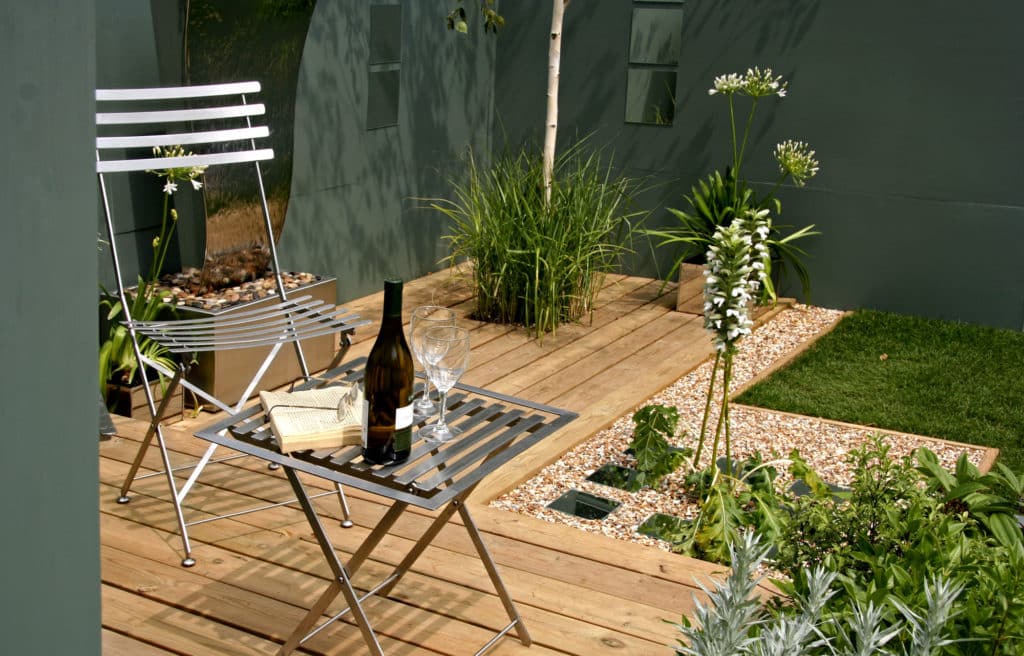 This garden may be tiny, but it's the perfect place to spend a lazy sunny afternoon. What would you have in YOUR ideal summer garden?
Look for inspiration in our garden design portfolio
What are Essex and Suffolk residents doing in their gardens this year?