31 Jul

Up the garden path. Planning the journey around your garden

Garden layout really does impact on the way you use your outdoor space. In this article we're discussing the importance of path design.

Gone are the days when the garden path was simply a strip of concrete between the back door and the washing line. Modern paths are a true design feature and have a much greater purpose than just keeping your feet dry.
This garden path welcomes visitors to an Edwardian property in Colchester.
Planning the journey around your garden
Just like a good novel (or a decent blog post!) a path should have a beginning, a middle and an end. It needs a strong theme, lots of character and hopefully, some surprises. Some of the paths we design have a strong purpose, to take the follower from one feature to another. Others are for a leisurely journey where the mind can wander.
Designing a path is all about meeting the client's needs and then adding a little extra for interest. And so It's not just about materials, it's about what's at each end and what appears along the way.
In this design, the pathway links an extensive gravel driveway to the side entrance to the property.
We've used co-ordinating colours, a texture that reflects the age and style of the property and added in a planting and some lighting for a more homely feel.
Working with the terrain
A good path doesn't appear by magic. It needs the right buildup beneath it. Which in turn may mean moving soil, tweaking the levels and creating a sub-base or a frame work to ensure that it will be stable and safe.  When  I'm designing a path I don't even think about drawing lines on the page until I've got the results of the site survey. Are there utilities or buried in the garden? Will they need to be considered in the design? What is the soil like? Are there areas where drainage is difficult?
Next there are the clients' needs to consider. Will the path be negotiated regularly by for wheelchairs, wheelbarrows, mowers or pushchairs? If so, changes in levels need to be tackled with gentle slopes rather than steps and the width of the path needs to be adequate.
This winding path in Beth Chatto's garden leads the visitor on a journey through some sumptuous planting. The slope is addressed with gentle steps.
A non-slip surface means that it can be used all year round.
Where will your path lead you?
Once I have an idea of where a path can be constructed, I'll think about it's function and how that can fit into the design.
Is this path purely practical – for example to take the postman from the front gate to the front door. Or is it a way to experience the garden – to get up close to the plants and maybe access secret seating areas?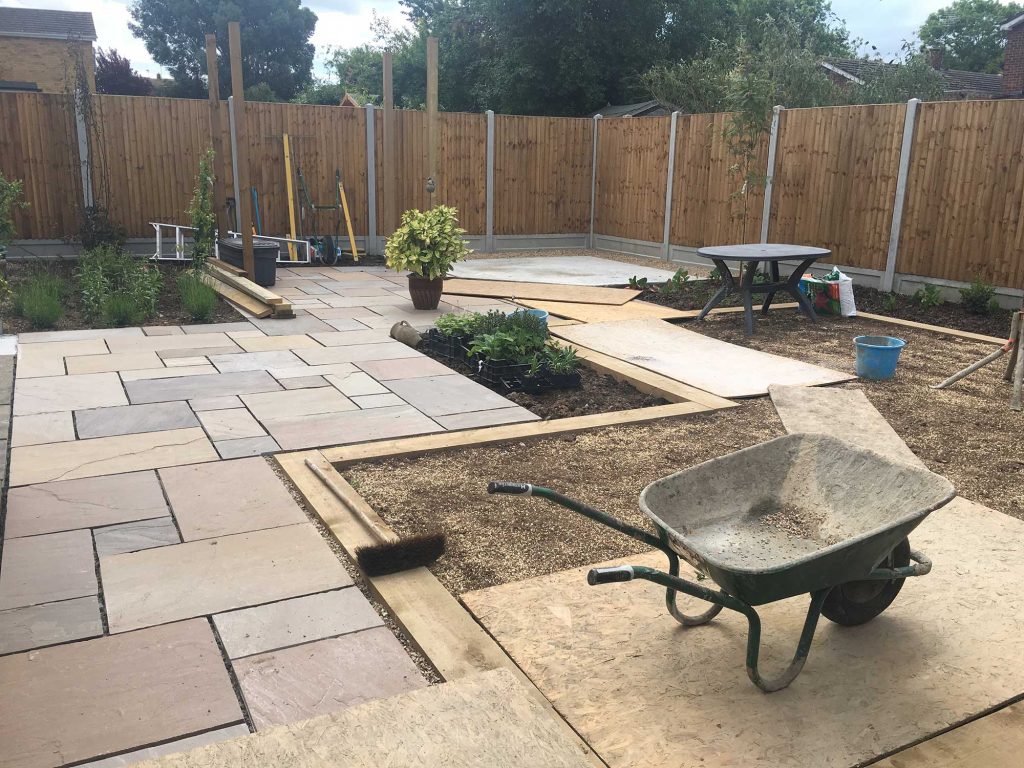 When the garden is finished, this wide path will eventually lead to a summerhouse. There's room for some seating and we've designed in some bee-friendly planting along the way.
Sometimes it makes sense to use the obvious route – a straight line between two points. Other times, a meandering or branching path can make the journey around your garden more interesting.  Will your path have a focal point to create a beautiful vista from your window? Or will it have cheeky little characteristics that make you wonder what's around the corner?
This woodland garden path leads the eye towards that bright yellow shrub and then turns a corner. Visitors are compelled to explore more
Pathing materials
There is a vast choice of materials for making paths. From high quality porcelain pavers in a huge range of colours to natural stone slabs, stone setts, oak setts, self-binding gravel, resin bound gravel or even rustic looking bark mulch. A garden designer will be able to help you choose functional materials that suit your whole property, the style of your garden and of course that all-important budget.
This curly path takes the visitor on a leisurely journey on what is quite a small garden. We've used a combination of stone setts and gravel for a low maintenance garden.
This path also looks good from the upstairs windows.
If the style of the garden accommodates it, I like to combine different materials. Bricks with pavers, gravel and stone setts, stepping stones with grass. Combining different colours and textures – is fun, it adds interest and it makes your path unique.
Mixing colours, textures, slab sizes and using a different approach to angles can make a path far more exciting.
Try not to go overboard though! Too much interest can look like a muddly mess.
Incorporating a path into the design of a garden
It's not unusual for Tapestry Design Studios to be involved in simply replacing or redesigning a garden path but we always encourage our clients to look at the path as part of the overall garden design.
Choose materials that work well with the style of the property and its surroundings.
Think long term – how will you be using your garden in 5, 10 or 20 years time? Will you still love the design?
Will the materials still be in good condition?
What sort of maintenance might be needed and how often?
Is this path something that would help to sell the property if ever you needed to?
What sort of planting or surfaces would look good beside this path?
Do you need built in lighting?
Garden lighting ensures your path is usable at any hour of the day or night.
Image courtesy of Light Visuals
Confused? Don't know where to start? A garden designer can guide your thought process and help you choose the best layout, materials and surroundings for your new path. If you'd like our help, please don't hesitate to get in touch.
Contact Tapestry Design Studios
More garden design articles
Inspirational gardens to visit in Essex and Suffolk
Reviewing your garden and planning improvements
Hide and reveal – using the art of surprise in garden design