13 Jan

Why You Should Plan Your Summer Garden In Winter

Garden designers advise that you should plan your summer garden in winter. But Why? Read this blog to find out.

Why on earth would you want to plan your summer garden in winter? Well, we've got 5 good reasons for doing so.
Everyone needs a mood boost in winter, and what better way to improve your wellbeing than by taking steps to transform your outdoor spaces?
It's easier to see the potential in a winter garden because there's less vegetation to hide the pros and cons
The garden design and build process takes several weeks – the sooner you start, the more likely it is that your garden will be ready for summer.
Landscapers get booked up quickly in spring.

 

Avoid the queues by getting in there first.
Plants, trees and turf take a while for their roots to settle in.

 

The earlier in the year they are planted, the better they'll look in summer.

Designing and building a new garden takes time. The sooner you start, the more likely it is that you'll be able to make full use of your outdoor spaces in summer
Boost Your Mood By Starting To Plan Your Summer Garden
It's harder to think positively when the weather is gloomy, the Christmas lights have been taken down and the evenings are long and dark. But there is hope. Winter doesn't last forever and already, the daylight hours are starting to get longer. 
Scientists tell us that by immersing ourselves in nature, we boost the levels of happy hormones flowing around our bodies. But when you go to work AND come home in the dark, there aren't too many opportunities to spend time outside.  In my experience however, just looking at pictures of wonderful outdoor spaces can really lift your mood.  That's probably why so many people are tempted to browse holiday websites at this time of year.
However, a holiday in the sun lasts 2 weeks, a beautifully designed and built garden will last you a lifetime. And it will bring you benefits in the winter time as well as the summer.  Sounds like a good investment?  Read on.
Seeing The Potential In Your Garden

You might see this as uninspiring, but a garden designer sees potential.  Tapestry Design Studios and Holland Landscapes completely transformed the way this garden looks and feels.  (see below)

Soggy shrubs, languishing lawns, stained slabs and flopping fences all look their worst in winter.  But we garden designers don't see all that.  We see the shape and size of your garden, where the drainage needs improving and where the neighbours can see right into your plot. A winter garden for us is just bursting with potential.  
There'll likely be worn areas in the lawn to tell us how you normally travel from one garden feature to the next. We'll be able to imagine what  the view could be like from your windows. And we'll also get some good ideas for a potential lighting plan.
Don't forget too, that your new garden will be with you all year round.  By seeing your plot when daylight levels are weak and all around seems gloomy, our designer eye can start to picture how amazing the space could look in winter.
We don't just plan your summer garden, we plan a place that looks good 365 days of the year.
How Long Does It Take To Plan A Summer Garden?
The garden design process can take 4-6 weeks, especially if we have other clients to help too.  We usually start with a site visit to take measurements and get to know more about your lifestyle, your tastes and your build budget.  It's important to us that your new garden is not only unique to you, but that it's manageable for you and that you can make full use of it.  During the garden design process there'll be a second consultation to check that you like the basic layout etc. And then we'll go away again to work on the details.
When you are happy with your garden design, you will want to invite landscapers to quote for the work.  This can take another 2-3 weeks. A reputable landscaper will look carefully at every detail and work out realistic costs for labour and materials. If somebody gives you a quick quote, be very suspicious. They may not be as honest or competent as they seem.
If your chosen landscaper is already working on a project (and they usually are), they probably won't be able to start work as soon as their quote has been accepted. And then, depending on the scope of works, it may be a few weeks before the landscaping has been completed.
You can see already that no part of a garden makeover is instant – at least not if you want to get it right first time.  If you don't start to plan your summer garden early enough, you may well find that when you most want to use it, your garden will still be a work in progress.
Plant Earlier In The Year For Better Establishment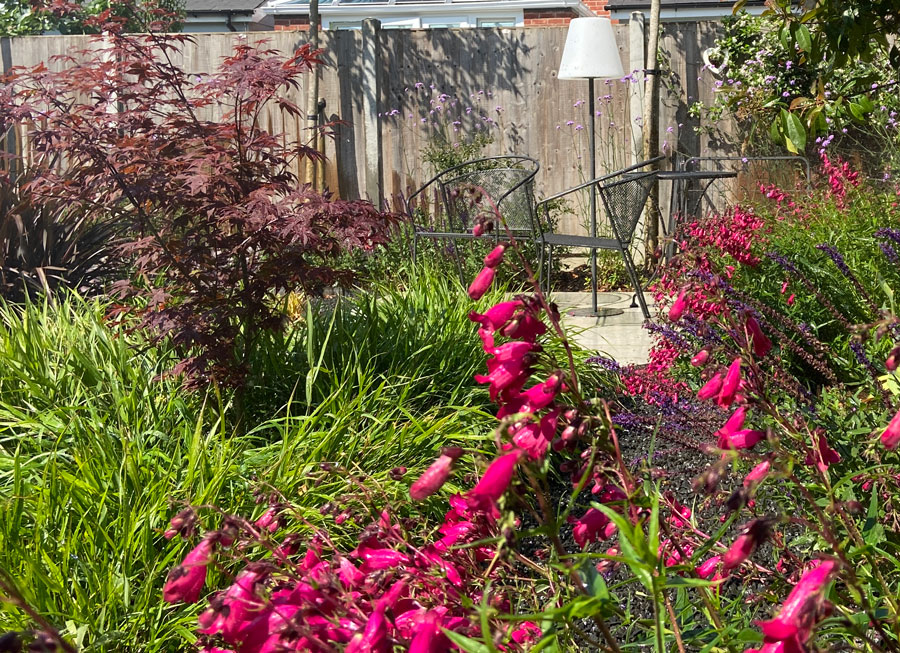 For a riot of summer colour, plant either in spring or autumn.  Planting early gives the plants plenty of time to establish good root systems. Plus, they'll grow fast, meaning that you can use smaller (and therefore lower cost) plants.
In theory, you can lay turf and plant your garden up at any time of year, provided that you can keep the plants well watered. However, any horticulturist will advise you to plant in either spring time or autumn time.  Why? Because that's when the soil is warm, Mother Nature is generous with rainfall and plants naturally enter growth phases.  
In spring, plants will be enjoying longer daylight hours when they can harness the energy of the sun to help them grow roots, leaves and flowers.  
In autumn, it may not look as though there's much happening with your plants, but in actual fact, most of them will be sending their roots even deeper into the soil to help them prepare for the next year.  Some will also be producing embryo buds and flowers in readiness for summer.
When you create a new lawn, either by seeding or by turfing, the grass will be quite tender until it gets really well established.  As a rule of thumb, we say that you should wait 6 weeks before subjecting a turfed lawn to heavy foot traffic.  For a seeded lawn, it's more like 12 weeks.  As turfing, seeding and planting are usually the last phase of landscaping, it's important to start to plan your summer garden early in the year if you plan on picnicking on the lawn in summer.
Will you start planning your summer garden this week?  These blogs will help you to focus your thoughts.
 Changing your garden? Here's how to get started   
How To Create A Garden Design Mood Board