11 Oct

Garden design ideas to get best value from your garden in winter

Winter is coming and it's tempting to batten down the hatches and spend winter indoors. But if you do that you are missing on a wealth of health benefits and on some amazing natural beauty. Read on if you want to make more of your garden in winter time.

Most of us feel a bit blah in the winter time. Some people even experience a horrible depressive condition called SAD (seasonal affective disorder). The NHS advises that one way to help lift the winter blues is to spend time out of doors. But if your garden is little more than a miserable mud patch, it's not going to help much.

The Tapestry Design Studios team know that you want full value from your garden. That includes being able to use it all year round. No matter what size your outdoor space is, we aim to break down any barriers to using your garden in winter. And yes, we even have ideas to beat all but the very worst the British weather tries to throw at you.
The two biggest barriers to using your garden in winter
The two things that people tell me are most likely to keep them indoors are the cold and the dark. Brilliant. Those things are easy to solve. By designing and building your garden so that it includes shelter, heating and lighting you'll feel more able to use your garden in winter.
On this concept plan, the garden layout adapts to winter use as well as summer.  There is a cosy summerhouse with a sheltered patio. Access from the house is good too- with a nice all-weather surface. But what I really like is that the garden building can be heated and lit in winter so that it invites the householder out of doors.
Shelter in the winter garden
All too often we assume that the summer house is only for use in warm weather. Not so. Good garden design includes garden structures that adapt to the seasons and entice you outside whatever the weather.
A small intimate space feels warm and cosy, even in midwinter. Coloured lighting adds to the snugness.
When choosing a garden building, look for something with lots of windows to allow natural daylight to flood in. If it's positioned correctly so that it catches the sun at the right time of day, it could be a lovely place to sit on cool days with a cup of hot chocolate, a good book and some excellent music. With a small heater installed, your summerhouse could double as a hobby room – set up your sewing machine and make that patchwork quilt you've always wanted. Or build a layout for the model railway you've had in the loft since you were 16. Even better, bring in some gym equipment. You'll be doing something productive while still enjoying your garden in winter.
To make a garden building practical for year round use, be sure to have sensible access. No tramping across the lawn to get to it, you need a nice well-lit, slip-proof path and maybe a bit of a patio for summer barbecues.
If you enjoy gardening, a garden room doubles up as a great place to overwinter tender plants such as pelargoniums, fuschias and cannas. Arrange them beautifully and add some houseplants and you'll feel as though you're sitting in the jungle.
Feel as though you are indoors – even when you're not
What about a pergola? They're ideal for eating al-fresco in summer but tend to be abandoned during the colder months. A pergola feels less enclosed and more airy than a summerhouse but with the aid of a patio heater and some clever planting and seating it can still feel cosy.
Most of our designs include some sort of screening. A screen provides cool shade in summer, privacy of course and in winter they act as a wind-break to keep those chilly breezes at bay. Combine a screened area with a firepit and an outdoor cinema screen and suddenly winter becomes THE season for outdoor entertaining.
Winter is all about friends, firelight and that one person who wears tee shirt and shorts all year round
Lighting
Garden lighting has come a long way in the last decade or so. In winter, it's dark by 5pm most evenings. So use garden lighting to extend the day. By using timers or operating lights from a phone app, you can come home to a warmly lit garden. If you have little ones, a brighter garden will allow active outdoor play after school- far healthier than sitting in front of a screen.
Winter can be boring for pets too. There's no fun walking the dog in the dark but you still give Fido the mental stimulation he needs by playing games with him in your beautifully lit garden.
Lighting up some of the features in your garden is a good way of enticing yourself outdoors if only for 5 or 10 minutes to get your circulation going. The combination of beautiful planting and garden lighting makes for beautiful photographs.
Strings of lightbulbs or twinkly fairy lights are not the only ways to add interest to a garden in winter. How about upcycling tin cans or glass jars to make lanterns?
Improve the view from your window
Of course sometimes you really won't want to be outside for long. So that you can still get best value from your garden on those days, make sure that the view from your window brings you lots and lots of interest and pleasure. That's something we always think about at Tapestry Design Studio. When we work with you to plan a new garden, the view from each of your windows is important to us.
Planting for shape, form and colour provides winter interest
In this country we have a limited colour pallet for flowering plants in the depth of winter. So a Tapestry Studios planting plan will put a lot of emphasis on shapes and textures that look good between November and February. In other words in the colour gap between autumn foliage and early spring flowers.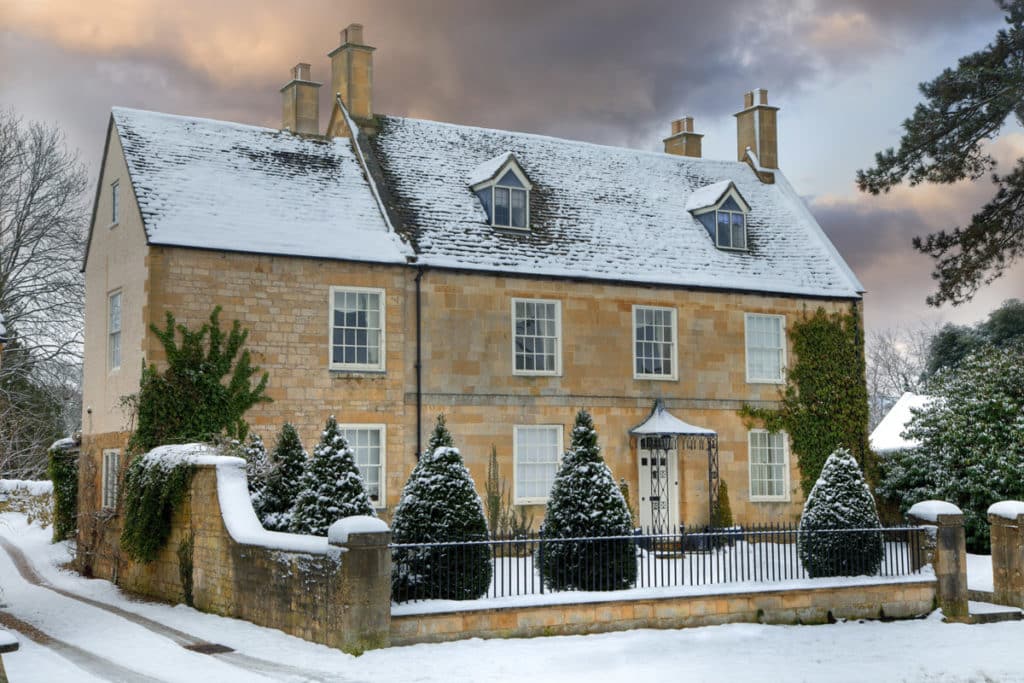 This front garden in the Cotswolds shows just how effective shape and form can be. Not only does this simple design at kerb appeal, I can imagine that it looks good from inside the house too.
Wherever possible our planting plans include trees, plants and shrubs that have beautifully coloured stems or berries. We look at growth habits and shapes – topiary for example is fabulous in winter, especially when lit. Some seedheads are awesome for winter interest too.
Maximise interest by adding wildlife
One of the biggest joys of my own garden in winter, are the little feathered visitors. They bring movement and sound when all is still and quiet and, as young as he is my son loves watching them.
Planting for wildlife helps add winter interest too. A lovely native hedge full of berries provides birds with somewhere to shelter and perch as well as food to eat. If you are very lucky, they might nest in it come spring. Seedheads are great for some bird species whilst others like a natural lawn where they can forage for worms and grubs.  Pop a bowl of water and a feeder fairly close to a window so you can watch the birds from a warm place.
The more wildlife you attract to your garden, the more pleasure it will give you. It can become quite addictive – but in the big scheme of things, that's pretty good isn't it?
You'll find much more advice on the RSPB website
How will you add winter interest to your garden?
If you are stuck for ideas for what to do in your garden in winter, why not meet up with one of our garden designers? Our garden inspiration package is great value for money and can really help you to find a solution.
One of our garden designers will come to you for a brainstorming session. You'll be able to spend an hour with an expert working out ideas for layouts, themes, materials and planting. At the end of the session you should feel more confident to design your own garden.  Alternatively, we can work with you to get your ideas down on paper and possibly even help you to build your new all-year-round garden.
More about our Garden Inspiration Service
Contact us to discuss your winter garden plans