15 Jun

Using foliage plants in garden design

If somebody were to sneak into your garden and pick every single flower – would your garden still look good? This blog is all using foliage plants in garden design.

The Oxford English Dictionary defines "garden" as "A piece of ground adjoining a house, in which grass, flowers, and shrubs may be grown." So it follows that one of the most important aspects of garden design, is of course the planting plan.

I love plants and I'm in awe of Mother Nature who has evolved so many different plant shapes, sizes, colours and textures from what was, all those millions of years ago, just slime. We're incredibly lucky in our part of the world to have the climate and the soil type to grow diverse plants. So why not celebrate by raising the profile of foliage plants in garden design.
Green is a very restful colour and this garden in Frinton on Sea, Essex has oodles of green leaved foliage plants add to the ambience. I'm loving the contrasting shades of green and the textures created by different growth habits. One  use of foliage plants is so often taken for granted is the lawn. This one looks rather special.
The garden design process
The garden design process begins by finding out about the site, how it is to be used and what type of plants the client likes and dislikes. Some clients are not au fait with different plant species but they know what they like in terms of colour, style and maintenance needs.
Once the layout has been agreed on, and we have a concept design in place, we get to my favourite part, the planting plan.
When I'm working on a planting plan I aim to create something with long term sustainability – ie that will look good for many years. I want all year round interest and I want the plants to have a function wherever possible. In other words I'm looking for plants that will really work hard.
The questions I ask myself as I'm working include things like
What will this part of the garden be like in January/March/August/November?
How can I introduce autumn colour?
What sort of thing will my client see from her kitchen window in June?
How can I screen the view from the pavement and protect my clients privacy?
Should I use scented plants around the arbour?
Which colours work well with the stonework we'll be using?
How can I get height and movement into this area?
What will look good beside the pond but not clog the filters up with autumn leaves?
There are a million and one other questions but you get the gist of it.
Noticing foliage plants
Foliage plants are not just land based. This water lily provides shade for aquatic creatures and helps stop the pond being spoiled by algae. It also looks rather lovely.
Did you know that the adult brain processes 2 million pieces of data PER SECOND but it largely ignores 80% of the information it recieves from the body? It has to – otherwise it'd never cope with the workload.
For example, when you walk down the street, your brain is noticing, but not necessarily recording everything around you. The air temperature, the smells, the woman with the small dog, the crying baby, the man with mismatched shoes. All you will remember is hot, lots of people, smells like coffee, feet hurt.
Similarly in the park or the countryside, unless you make a conscious effort to look hard at plants, you will probably remember green, birdsong, cyclist, white flowers, dog. Little wonder then that we rarely register the variety within the plant world unless it jumps out at us in terms of strong colours.
Sitting in your own garden though it's different. You relax and begin to notice what's going on around you. That's when the colours, textures, movement and contrasts of foliage plants come into their own.
This photo was taken on one of my inspiration-gathering trips. First impression is "green" but then my garden designer brain starts working and I can see tall foliage (trees) creating a boundary hedge and leading the eye towards the mature trees beyond. I can see short velvety grass in the foreground and umpteen different leaf shapes and textures in the border. The whole effect is soothing and restful. This is Gooderstone Water Gardens in Norfolk.

Foliage plants for height and privacy
Hands up if when you read the title of this blog you thought only of "below the knee" plants. The heucheras and other little guys that sit in flower beds. Thought so.
What about trees and shrubs? Are they not foliage plants too?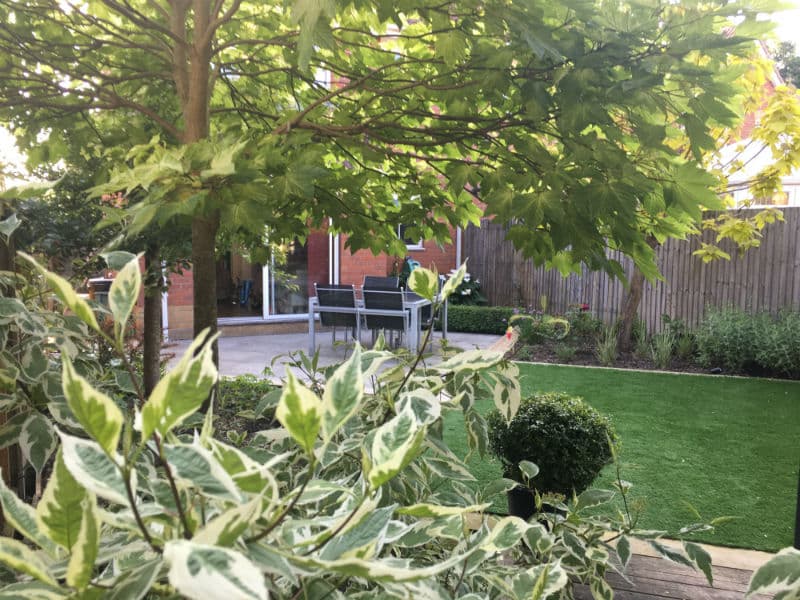 This family garden makes full use of foliage plants from the top of the tree canopy to the natural lawn beneath it. The variegated cornus in the foreground is a easy plant to look after and contrasts beautifully with the dark green of the potted buxus ball.
Deciduous trees, evergreens, topiary, shrubs; these are the things that work alongside the hard landscaping to give the garden shape and form.  Trees and shrubs give me the opportunity to manipulate light and shade. They can detract from an unwanted view or they can lead the eye onwards and upwards, beyond the garden to the sky and the landscape beyond.
Some trees supply a stunning display in autumn, some offer dappled shade in summer time and others have striking stems for winter colour.
Foliage plants for texture
As we move down from the tree canopy and nearer to the ground, shape and colour becomes more open to scrutiny. Whenever I can I like to mix colours and textures of foliage for all year round interest. Some herbaceous perennials tend to lose their leaves in winter so I do my utmost to include at least some evergreens in the planting plan. What I do like to do – and I like to see how other garden designers do it too – is to experiment with leaf textures.
Beautiful contrast in textures.
How about planting soft fuzzy stachys (lambs ears) beside a feathery achillea? Yes I know achillea is a flowering plant but that foliage is pretty special too. The scientific name for wild yarrow is Achillea millefolia. Achillea because it can be used as a herbal rememdy for tendon troubles, millefolia because each leaf is highly segmented. Mille = thousand folia = leaf.
Or what about a strappy grass beside the flat leaves of a geum plant? Plant combinations are great fun to play with.
Im loving the contrasting foliage colours here. This planting scheme really doesn't need flowers!
Not all leaves are green. This silvery grey coloured grass brings light into an otherwise shady spot
Disguising unwanted features
Spring flowering bulbs bring a welcome pop of colour to the garden. But once the flowers have gone over, you are left with floppy leaves straggling across the soil. A bit of an ugly aftertaste. If you remove the leaves too soon, the bulbs will lose their vigour so I like to plant bulbs amongst foliage plants that I know will hide the dying leaves beneath their own vegetation.
I will use climbing foliage plants to soften the hard lines of a fence or a wall. Trailing or prostrate plants can be used to good effect at ground level.
A custom built foliage planting plan just for you
Did you know that Tapestry Design Services don't just design whole gardens? We're also happy to work with clients on planting plans for existing gardens. Maybe you want to change your colour scheme or liven up a tired looking border. Why not give us a call and find out how we can help?
Find out about our garden design packages
Garden design tips to help you make the most of a small garden