21 Oct

How would you improve your garden?

As the summer draws to a close and while the memories are still fresh, it's good to look back and ask yourself how you would improve your garden for next year.

Typically, gardening blogs and post encourage householders to plan their gardens during the dull and depressing depths of winter. There are three reasons why I think that's a little too late.

Firstly, in the months between Christmas and springtime it's hard to imagine wanting to be outside at all.

Secondly, memories of the garden in summer are a long time off. No, I like to make a wish list while there's still a little bit of summer in my soul.

Thirdly, and most importantly, I know that planning a garden makeover can be time consuming. Especially considering that the best landscapers often have 3-4 month waiting times. Imagine the frustration of designing a garden in spring and not being able to start work straight away!

Beth Chatto's garden near Colchester. Hard to believe that this was once an overgrown wasteland with hard to manage soils and many challenges.
It's a great reminder that it IS possible to improve your garden. Read more here.
What made you love your garden this summer?
There are two sides to every coin. When I'm designing a garden, I like to accentuate the positives and eliminate the negatives. To do that, I need my clients to share an honest pros and cons list with me. Trust me, nothing is all bad.
Some of the pro's might be
A nice private space
Manageable size
Dog and/or child friendly
Big lawn for playing on
Lovely views
Beautiful soil
Practical features such as a linen line, a bike shed and a hard standing for the wheelie bins
Certain plants with sentimental value
Catches the sun in the afternoons
It's the functional features that I want to work with. In fact each one of the garden designs created by Tapestry Design Studio is about making sure the new garden works hard for its owners.

A typical uninspiring newbuild garden ripe for improvement. At first glance there's not much to love but actually, it's a nice, manageable size with secure fences and plenty of privacy. It's sheltered from cold winter winds and it's a lovely sun trap.

The same garden after a makeover from Tapestry Design Studios and Holland Landscapes
How did your garden let you down this summer?
Were there times in the last 12 months when you looked outdoors and sighed because your garden just wasn't making you feel good? Why? What made you sigh (or cry?!)
How would you finish the sentence "I didn't use my garden this summer because…………………….."
Write down as many answers as you can
Here are some typical garden grouses
Overlooked by neighbours so you don't feel comfortable spending time outdoors
Out of control? Too difficult to maintain
Worn out lawn
Uneven or unattractive paths and hard standings
Nowhere to set up the barbecue
No shelter from the hot sun
Lacking places to sit
Soil too wet, too dry or too poor to sustain nice plants
Too dark to venture out in the evenings
Nothing interesting out there
Planting is boring and doesn't add value to the space.
Turn those weaknesses into strengths
Once you have identified what feels right about your garden and what feels wrong, you can start to decide how to improve your garden. Working with a professional garden designer will help you to unlock your garden's potential
For a little inspiration, here are some "before and after" pictures of gardens designed by Tapestry Design Studios. If you like what you see, why not get in touch to discuss ways to improve your garden.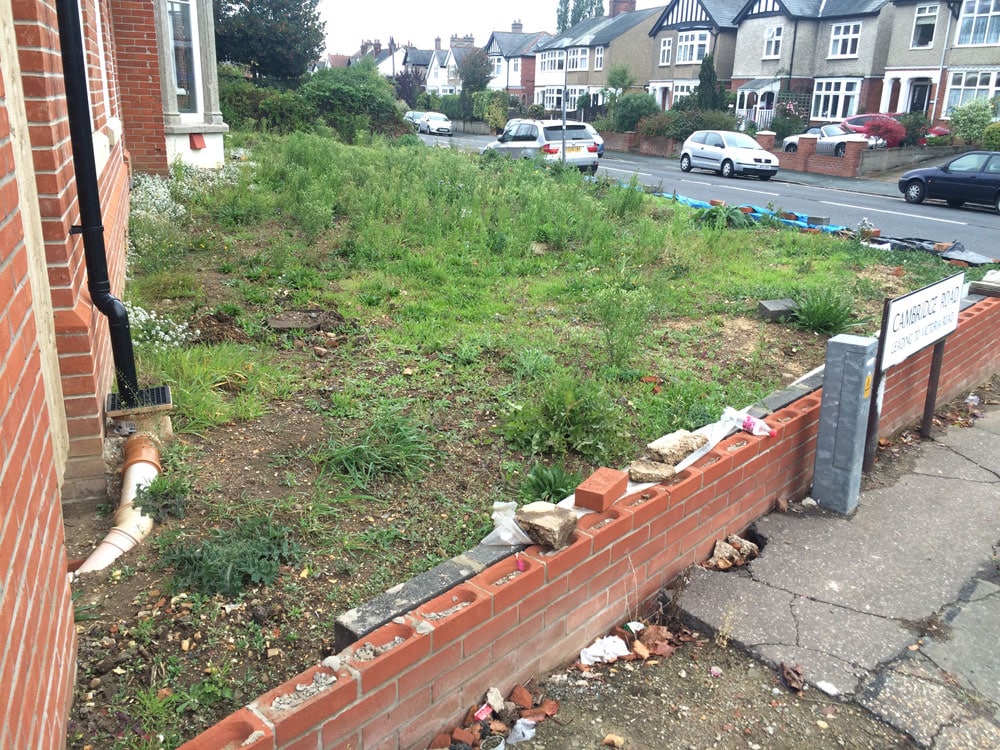 Plenty of potential for improvement here! This front garden does nothing to enhance the recently refurbished property.
After: This beautifully planted garden is an asset to the whole street and it almost certainly adds value to the property.
A narrow path and steep steps are discouraging the homeowners from using this garden to the full.
Moving soil to create a patio area protected by banks of wildflowers has completely transformed this space and the way it is used.
A narrow lawn surrounded by overgrown shrubs. Nowhere to sit and no space for entertaining
After: The planting still needs to be completed but this space is far more usable than it was.
Useful articles to help you improve your garden
Why use a professional garden designer
Inspirational Gardens to visit in Essex and Suffolk